June 18th, 2020
MVD's COO Ed Seaman named to Billboard's 2020 Indie Power Players
MVD's COO
Ed Seaman
has been named one of Billboard's 2020 Indie Power Players.

Billboard writes:
During the past year, independent music executives have faced chaos in physical sales channels, questions about how data flows from social media platforms, disappearing brick-and-mortar stores and other challenges. Then the coronavirus pandemic struck, followed by the worst social unrest the United States has seen in a generation.
In response, the indie music community has shown the strength of its autonomy. Music associations and companies profiled here stepped up to help amid the economic hit of the pandemic. On June 2, multiple labels and distributors participated in Blackout Tuesday to support the fight for racial justice.
Indie labels and artists account for nearly one-third of the global music market, and, according to research by MIDiA, they've achieved a faster rate of streaming growth on Spotify in 2019 than the majors.
For Indie Power Players, labels are defined as independent by their ownership through entities other than the three major music groups. Distributors, regardless of their corporate ownership, qualify as independent through the repertoire they market.
Many in the indie music industry will convene online June 15-18 for the American Association of Independent Music's first virtual Indie Music Week and the Libera Awards, which will conclude A2IM's conference. Ahead of Indie Music Week, Billboard recognizes the successes of those thriving on their own maverick terms.
For the complete article go HERE.
Seaman's interview appears as follows: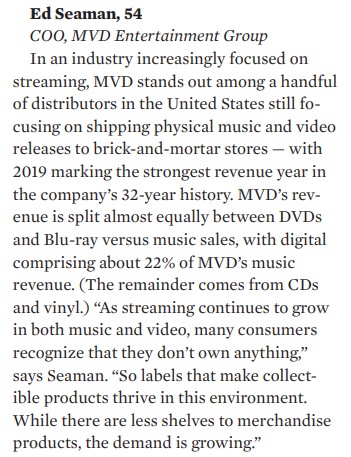 In that same issue, MVD ran this ad which honored the entire staff...