Product Details
An MVD Exclusive
Format: CD
SKU: BCD17570
UPC: 5397102175701
Street Date: 10/23/20
PreBook Date: 09/18/20
Label: Bear Family Records »
Genre: Country
Run Time: 476:39 mins
Number of Discs: 8
Year of Production: 2020
Box Lot: 0
Territory: NORTH AMERICA
Language: English
Cast & Crew
Product Assets
Bobby Bare - Bobby Bare Sings Shel Silverstein Plus
8-CD boxed set (LP-size) with 128-page hardcover book, 137 tracks, total playing time 476:39 mns.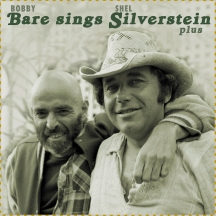 List Price: $249.99
Your Price: $187.49
In Stock: 22

You must login to place orders.



Among Silverstein's wry sagas about winners, losers, and lonely all-night cafés, you'll discover charming children's songs and touching, affectionate love ballads. A complicated man, that Silverstein.
If most people associate the late Shel Silverstein with his children's literature, others remember his cartoons and graphic travelogues for 'Playboy.' By contrast, relatively few recognize this Chicago native as a prolific songwriter, penning such hits as Johnny Cash's A Boy Named Sue, Dr. Hook and the Medicine Show's The Cover Of Rolling Stone, Tompall Glaser's Another Log On The Fire, and Loretta Lynn's One's On The Waycorn.
No artist recorded more Silverstein songs than veteran country singer Bobby Bare. His 1972 cover of Silverstein's bittersweet Sylvia's Mother launched a professional relationship that led to an enduring friendship. 'Lullabys, Legends And Lies' from 1974 remains an exercise in pure imagination, establishing Bare as a major album artist and yielded Marie Laveau, Bare's first chart-topping single.
During the late '70s, Shel Silverstein shifted his creative focus to playwriting and children's books, but he continued crafting clever songs specifically for Bare. By the mid-'80s, Bobby Bare had recorded more than 100 Silverstein originals.
'Bobby Bare Sings Shel Silverstein, Plus,' the first comprehensive collection of this material, is accompanied by a 128-page hardcover book, its eight CDs include 137 tracks, 25 of them previously unissued. Six albums appear complete, including integral songs by other writers. The long-unheard 'Great American Saturday Night' includes three songs missing from a recent independent label release.
The box set contains an LP-sized, lavishly illustrated 128-page hardcover book that contains song lyrics and a discography. In a conversation with Hank Davis, Bare recalls his years working with Silverstein, and Dave Samuelson documents the songwriter's multiple creative pursuits.
Track Listing
Disc 1:
Lullabys, Legends And Lies
Paul
Marie Laveau
Daddy What If
The Wonderful Soup Stone
The Winner
In The Hills Of Shiloh
She's My Ever Lovin' Machine
The Mermaid
Rest Awhile
Bottomless Well
True Story
Sure Hit Songwriters Pen
Rosalie's Good Eats Cafe
Disc 2:


Hard Time Hungrys
(Taxes On) The Farmer Feeds Us All
Alimony
Two For A Dollar
Back Home In Huntsville Again
Daddy's Been Around The House Too Long
Warm And Free
Able-Bodied Man
$100,000 In Pennies
Bottles And Boxes
Truck Driver, Truck Driver
The Unemployment Line
Too Much Blues (prev. unrel.)
Things To Sell (prev. unrel.)
Door To Door (prev. unrel.)
Poor Blues (prev. unrel.)
It's Good To Know The Sun's Still Shinin' Somewhere (prev. unrel.)
Lead Me Back Home (prev. unrel.)
Disc 3:


Singin' In The Kitchen
The Monkey And The Elephant
Lovin' You Anyway
Where'd I Come From
Ricky Ticky Song
The Giving Tree
You Are
The Unicorn
Cloudy Sky
She Thinks I Can
Scarlet Ribbons
See That Bluebird
Sylvia's Mother
You Know Who
Staying Here With Me (prev. unrel.)
The Wheel (prev. unrel.)
Love And Flowers (prev. unrel.)
The Stranger
Chester
Bald Headed Woman
Baby Wants To Boogie
Brian Hennessey
Climbin' The Ladder And Climbin' The Walls
Yes, Mr. Rodgers
Disc 4:


Sweet Larraine (prev. unrel.)
Lemme Be Something (prev. unrel.)
Vince
Make It Pretty For Me Baby (prev. unrel.)
Vegas
It Ain't Easy (prev. unrel.)
February Snow
Sing For The Song
From The Jungle To The Zoo (prev. unrel.)
Too Many Nights Alone
Greasy Grit Gravy
They Held Me Down (prev. unrel.)
This Guitar Is For Sale
There's An 18 Wheeler In Front Of The Ritz Hotel (prev. unrel.)
More Like The Movies (prev. unrel.)
Hattie Halle And Big Dupree
Disc 5:


Nobody Wants To Go Home (prev. unrel.)
Childhood Hero
A Week On The Town (Gone As A Goose) (prev. unrel.)
Yard Full Of Rusty Cars
When She Cries (prev. unrel.)
Cold Day In Hell
So Good To So Bad
The Diet Song (Version 1)
When Hippies Get Older
Jennifer Johnson And Me
Me And Jimmie Rodgers
You Jumped Off The Gravy Train
Time
Drinkin' From The Bottle
Someplace To Come When It Rains
Stacy Brown Got Two
The Jogger
Three-Legged Man
Rodeo Queen
The Diet Song (Version 2) (prev. unrel.)
Disc 6:


Great American Saturday Night
Red-Neck Hippie Romance
Kids Today (prev. unrel.)
Dirty Ol' Me (prev. unrel.)
The Diet Song
Paintin' Her Fingernails
Goodnight Little Houseplant
I Can't Sleep (prev. unrel.)
The Living Legend
They Won't Let Us Show It At The Beach
The Day All The Yes Men Said No
Time
Whiplash Will
Me And Jimmie Rodgers
Someone To Talk To
Great American Saturday Night
Disc 7:


Good For Nothing Blues (Funky Water)
Numbers
Some Days Are Diamonds
Tequila Sheila
Rock Star's Lament
Crazy Again
Tecumseh Valley
Blind Willie Harper
Rough On The Living
Down To My Last Come And Get Me
Quaaludes Again
Goin' Back To Texas
I Can't Watch The Movie Anymore
Disc 8:


Drunk And Crazy
Food Blues
The World's Last Truck Drivin' Man
I Can Almost See Houston From Here
If That Ain't Love
Rock And Roll Hotel
This Much Rain (prev. unrel.)
Song Of The South
Appaloosa Rider
Bathroom Tissue Paper Letter
Willie Jones
Gotta Get Rid Of This Band
Drinkin' And Druggin' And Watchin' TV
Your Credit Card Won't Get You Into Heaven
I've Never Gone To Bed With An Ugly Woman
Desperados Waiting For A Train
Sales Points
VARIETY 'Best Music Boxed Sets of 2020'
#1 on NASHVILLE SCENE's Annual Country Music Critics' Poll
Press Quotes
These eight CDs leave you with a new appreciation for their funky, off-color chemistry.

—Pitchfork
A proper throwback to a time when songwriting literacy and pure shit-kicking were not such strange bedfellows... Excellent.

—Variety