Product Details
An MVD Exclusive
SKU: MVD5281BR
Format: Blu-ray
UPC: 760137528180
Street Date: 02/15/22
PreBook Date: 01/04/22
Label: MVD Rewind »
Genre: Drama
Run Time: 106 mins
Number of Discs: 1
Audio: STEREO
Year of Production: 1982
Region Code: 0
Box Lot: 30
Territory: NORTH AMERICA
Language: English
Cast & Crew
Actors:
Matt Dillon
Cindy Fisher
Hoyt Axton
Yvonne DeCarlo
Susan Tyrell
Broderick Crawford
Director: David Fisher
Producer: Don P. Behrns
Product Assets
Liar's Moon: Collector's Edition
THEY CHOSE THE MOST FORBIDDEN LOVE A BOY AND GIRL COULD KNOW!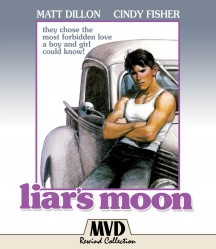 List Price: $24.95

New Price!

Your Price: $24.95
In Stock: 352

You must login to place orders.



Teen superstar Matt Dillon (The Outsiders, My Bodyguard) stars in this tender tale of love's first promise... and its enduring strength.
Dillon plays Jack Duncan, an athletic, hardworking boy from the small town of Noble, Texas. Jack is happy just enjoying himself with the local boys, until he meets Ginny Peterson (Cindy Fisher, Hide in Plain Sight, The Blues Brothers), the towns wealthiest young lady. Despite their obviously different backgrounds, Jack and Ginny fall desperately in love.
Even though their parents have forbidden them to meet, Jack and Ginny sneak out, and finally elope, hoping to find happiness far from their hometown. But theirs is a love that falls prey to the sins of their elders - as the intrigue of two families reaches out an angry hand to its innocent victim in this touching, tragic story of youth, love and hope.
Media
Sales Points
First time ever on Blu-ray!
Liar's Moon marks the final film for Academy Award Winner Broderick Crawford (Best Actor, 1949, All The King's Men)
Stars Matt Dillon (The Outsiders), Cindy Fisher (Hide in Plain Sight), Hoyt Axton (Gremlins), Yvonne DeCarlo (The Munsters), Susan Tyrrell (Cry Baby) and Broderick Crawford (All the King's Men).
Liar's Moon boasts Academy Award© Nominated Editor Christopher Greenbury (American Beauty) and acclaimed Cinematographer John Hora (Gremlins, Explorers).
From Producer Don P. Behrns (Friday the 13th Part VI: Jason Lives, The Unseeen, L.A. Law)
Press Quotes
Matt Dillon comes across like a young Brando or James Dean.

—Houston Post
Award Winning filmmaker Richard Schenkman (Jerome Bixby's The Man From Earth) has produced some amazing supplemental material for this brand new collector's edition release that reunites the cast and crew for the first time in decades.

—Tom Stockman, We Are Movie Geeks
Award Winning filmmaker Richard Schenkman (Jerome Bixby's The Man From Earth) has produced some amazing supplemental material for this brand new collector's edition release that reunites the cast and crew for the first time in decades.

—Forces Of Geek
 Matt Dillon stars in "Liar's Moon" (1982), a tender tale of love's first promise… and its enduring strength.

—Harley Lond, Film Crave
Sill, if you are a fan and have awaited and HD presentation, this disk is for you.

—Marc Ferman, The Film Junkies
Don't miss: Extras include a making of featurette, a look at the film's music and an alternate ending.

—Bob Bloom, Reel Bob
Don't miss: Extras include a making of featurette, a look at the film's music and an alternate ending.

—Bob Bloom, Film Yap
Dillon and Fisher are fine,

—The Film Frenzy
MVD has produced a lovely Special Edition here for "Liar's Moon," including a 1080p (1.78, 2.0 mono/stereo) transfer with a feature-length Making Of, featurette on composer Ray Benson, and an alternate ending that would've been even worse than the one in the finished film.

—Andre Dursin, Andy Film
MVD has produced a lovely Special Edition here for "Liar's Moon," including a 1080p (1.78, 2.0 mono/stereo) transfer with a feature-length Making Of, featurette on composer Ray Benson, and an alternate ending that would've been even worse than the one in the finished film.

—Andy Dursin, Film Score Monthly
On its 40th anniversary and just in time for Valentine's Day, a both loved and maligned romantic drama from 1982 is finally released on Blu-ray thanks to MVD Rewind Collection.

—Frank J. Avella, Edge Media Network
Now as with these MVD Rewind Blu-ray releases, not only do you get a gorgeous looking film transfer, but there is so many cool bonuses. 

—Jason Lockard, Classic Cinema Magazine
Technical merits are decent if improvable (video) to very good (audio), and the supplemental "making of" featurette in particular is a lot of fun, for anyone who may be considering making a purchase.

—Jeffrey Kauffman, Blu-ray.com
Matt Dillon headlines this period drama about a boy from the wrong the side of the tracks who falls in love with a high society girl, and when the two elope their parents put in motion a potentially deadly journey.

—Rob Hunter, Film School Rejects
The ending made the movie worth my time.

—Film Cultist
Long-time fans of the film will really enjoy the supplements, starting with The Making of Liar's Moon, a new retrospective documentary composed of virtual interviews with the film's major collaborators that runs just two minutes shorter than the film itself! 

—James Kendrick, QNetwork
This is a very fun release that will certainly impress fans of the movie and those interested in seeing a young Dillon making his mark on the big screen.

—Glenn Kay, Cinema Stance
But theirs is a love that falls prey to the sins of their elders — as the intrigue of two families reaches out an angry hand to its innocent victim in this touching, tragic story of youth, love and hope.

—Bob Morello, Video Views
Although hardly original in its scope, Liar's Moon is a gentle and touching tale told well.

—Sarah Morgan, On Magazine
The ending made the movie worth my time.

—Film Cultist
The alternate ending in the bonus features goes in the opposite direction, though both can be considered valid options and viewers may have varying preferences.

—Sarah Gopaul, Digital Journal
The ending made the movie worth my time.

—Film Cultist
Liar's Moon is an easy movie to enjoy with its slow-burning love tale and rich character development. By the end, viewers are rooting for Jack and Ginny's success. Making the final act's twists and turns all the more meaningful and emotionally powerful.

—Christopher Zabel, Doblu