Product Details
An MVD Exclusive
Format: CD
SKU: BCD17370
UPC: 5397102173707
Street Date: 12/22/17
PreBook Date: 11/03/17
Label: Bear Family Records »
Genre: Country
Run Time: 1506:3 mins
Number of Discs: 20
Year of Production: 2017
Box Lot: 0
Territory: NORTH AMERICA
Language: English
Product Assets
At The Louisiana Hayride Tonight
20-CD boxed set (LP-size) with 224-page hardcover book (LP-size), 561 tracks. Total playing time 1,506:37 mns.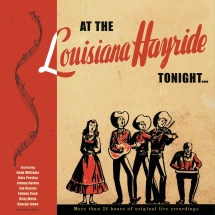 List Price: $299.99
Your Price: $224.99
In Stock: NO

Not purchasing for a business? See our consumer site.
529 'live' tracks including previously unknown recordings by Hank Williams.
11 'as live' studio-recorded transcriptions, including Kitty Wells, Johnnie and Jack, Hank Williams, and Curley Williams.
19 studio-recorded commercial discs, including hits by Slim Whitman, the Browns, Mitchell Torok, Jim Reeves, Mac Wiseman, and Carolyn Bradshaw.
167 artists in total, including Hank Williams, Elvis Presley, Johnny Horton, Webb Pierce, Faron Young, Jim Reeves, George Jones, Johnny Cash, Rose Maddox, Frankie Miller, Cousin Emmy, June Carter, Roy Acuff, the Bailes Brothers, the Oklahoma Wranglers, Norma Jean, the Browns, the Carlisles, the Louvin Brothers, Jimmy Newman, Ray Price, Roger Miller, Ferlin Husky, Warren Smith, Wynn Stewart, Grandpa Jones, Rusty and Doug Kershaw, Slim Whitman, and the Wilburn Brothers.
Hayride regulars including James O'Gwynn, Curley Williams, Red Sovine, Betty Amos, Harmie Smith, Buddy Attaway, Margie Singleton, Tony Douglas, Jack Ford, Werly Fairburn, Jeanette Hicks, Goldie Hill, Tibby Edwards, Hoot and Curley, Martha Lynn, Claude King, David Houston, Jerry Jericho, Bob Luman, Jimmy and Johnny, Merle Kilgore, Jimmy Martin, Johnny Mathis, Jimmy Lee, Charlie Walker, Billy Walker, and Dee Mullin.
All backed by the ultra-talented Hayride staff bands, including Felton Pruett, Jimmy Day, Floyd Cramer, Sonny Trammell, James Burton, D. J. Fontana, Shot Jackson, Sonny Harville, Dobber Johnson, Buffalo Yount, Don Davis, and Tillman Franks.

Time was when the Louisiana Hayride show at the Municipal Auditorium in Shreveport, Louisiana was the place for country music fans to be on a Saturday night. Just sixty cents for adults (thirty for kids) bought the finest night's entertainment anytime, anywhere.
Media
Track Listing
Disc 1:
W.K. (Old Man) Henderson - Hello World
John McGhee with Frank Welling - Hello World, Doggone
Blind Andy (Jenkins) - Hello World Song (Don't You Go 'Way)
Jimmie Davis (probably) - Hello World Doggone
Johnnie & Jack - Raining On The Mountain
Kitty Wells - The Singing Waterfall
Johnnie & Jack - Little Cabin Home On The Hill
Kitty Wells - Love Or Hate
Kitty Wells, Johnnie Wright and Hank Williams - Dear Brother
Curley Williams & Hank Williams - Time Has Proven I Was Wrong
Curley Williams & Hank Williams - No Not Now
Hank Williams - My Bucket's Got A Hole In It
Tex Grimsley & the Texas Playboys - Walking The Dog
Shot Jackson (Webb Pierce: vocal) - I Need You Like A Hole In The Head
Webb Pierce - I've Loved You Forever It Seems
Buddy Attaway - Freight Train Blues
Tillman Franks (Webb Pierce: vocal) - California Blues
Tillman Franks (Webb Pierce: vocal) - Hayride Boogie
Webb Pierce - I Got Religion Saturday Night
Tillman Franks (Faron Young: vocal) - Hi Tone Poppa
Mac Wiseman - Tis Sweet To Be Remembered
Claude King - She Knows Why
Shot Jackson - If The Truth Was Known
Slim Whitman - Indian Love Call
Jim Reeves - Mexican Joe
Mitchell Torok - Caribbean
Carolyn Bradshaw - A Man On The Loose
The Browns - Looking Back To See
Jimmy and Johnny - If You Don't Somebody Else Will
Slim Whitman - Rose Marie
Disc 2:


Hank Williams - Mind Your Own Business
Johnnie & Jack and Paul Warren - Listen To The Mockingbird
Hank Williams - I'm A Long Gone Daddy
The Bailes Brothers - He Will Set Your Fields On Fire
Zeke Clements - Milk Cow Blues
Curley Williams - Georgia Steel Guitar
Harmie Smith - I'll Step Aside
Red Sovine - Signed, Sealed, Delivered
Cousin Emmy - I Wish I Was A Single Girl Again
Johnny & Jack - Johnnie & Jack (as Nimrod and his Duck): Comedy Routine
Paul Warren - Jolly Blacksmith
Cousin Emmy - Shortnin' Bread
Cousin Emmy's Kinfolks String Band - Mountain Dew
Curley Williams' Georgia Peach Pickers - One Sided Affair
Curley Williams' Georgia Peach Pickers - China Boy
Beat The Band - Game for audience members – Beat The Band
Brother Homer (Bailes Brothers) - Sweeter Than The Flowers
The Bailes Brothers - You Go To Your Church And I'll Go To Mine
Station identification - Station identification
Slim Whitman - Whipporwill Yodel
Oklahoma Wranglers - Somebody's Been Beating My Time
Oklahoma Wranglers - Wrangler Boogie
T Texas Tyler - Irma
Webb Pierce - Wondering
Lucky Bob Davis - Water Baby Blues
Faron Young - The Good Lord Must Have Sent You
Disc 3:


Eddy Arnold - I'm Throwing Rice
Eddy Arnold - Cattle Call
Horace Logan - Hayride ad sales pitch (Horace Logan)
Intro Theme - Intro Theme
Jimmy Lee - Jimmy's Boogie
Goldie Hill - Why Talk To My Heart
Tommy Trent - No Muss, No Fuss, No Bother
Jerry Green - I Hate To Lose You Darlin'
Hank Williams - Jambalaya
Out theme and announcements - Out theme and announcements
The Maddox Brothers & Rose - The Land Just Over The Stars
Red Sovine - That's Me Without You (& Jax beer ad and Logan talk)
Tommy Hill - I Ain't Sittin' Where I Was
Jimmy Lee - Blowin' And Goin'
Hillbilly Barton - No Interest
Goldie Hill - Don't Send No More Roses
Bill Carlisle - Too Old To Cut The Mustard
Ginny Wright - How To Get Married
Elvis Presley - That's All Right (& Lucky Strike talk and intro)
Elvis Presley - Blue Moon Of Kentucky
Dobber Johnson - Black Mountain Rag
Tibby Edwards - Much Too Young To Die
Jimmy Newman - Cry Cry Darlin'
Elvis Presley - Hearts Of Stone
Elvis Presley - I Don't Care If The Sun Don't Shine
Elvis Presley - Little Mama
Elvis Presley - Shake Rattle And Roll
Jimmy Lee & Wayne Walker - Lips That Kiss So Sweetly (& Gladewater Intro and history)
The Browns - Draggin' Main Street
Disc 4:


Jim Reeves - Red Eyed And Rowdy
Elvis Presley - Tweedlee Dee (& Talk and outro)
Jimmy Newman - Blue Darling
Jeanette Hicks - Just Like In The Movies
Betty Amos - Yes Ma'am, Ma
Elvis Presley - I'm Left, You're Right, She's Gone
Bill Peters - Ida Red
Billy Walker & Jeanette Hicks - Which One Of Us Is To Blame
Johnny Horton - Gone With The Wind This Morning
Hoot & Curley - You Get What You Pay For (& Talk about future shows)
Jeanette Hicks and Hoot & Curley - Jeanette Hicks and Hoot & Curley: Lucky Strike Ad
Jeanette Hicks - Ain't That A Shame
Elvis Presley - Baby Let's Play House
Elvis Presley - Maybellene
Floyd Cramer & Jimmy Day - Floyd And Jimmy Boogie
Jim Reeves - Yonder Comes A Sucker
David Houston - Squaws Along The Yukon
Billy Walker - I Can't Keep The Girls Away
Johnny Cash - Hey Porter
Johnny Cash - Luther Played The Boogie
Werly Fairburn - Stay Close To Me (& Theme and Logan 'genial' talk)
Betty Amos - Ivory Tower
Johnny Horton - Honky Tonk Man (& Talk about state fair)
Hoot & Curley and Jack Ford - Standing At The Station
Gary Bryant - Loose Talk
Jeanette Hicks - Slippin' And Slidin'
Talk and Outro - Talk and Outro
Dobber Johnson - Bill Cheatham (& Talk about fiddle tunes)
Jimmy Newman - I Want To Tell All The World
Disc 5:


Sonny Trammell - San Antonio Rose
Betty Amos - I Want To Be Loved (& Talk about Louisiana Hayride and state fair)
Johnny Cash - So Doggone Lonesome
George Jones - You Gotta Be My Baby (& Theme and Frank Page)
Jeanette Hicks - My Blue Heaven
Johnny Cash - I Walk The Line
Slim Whitman - Dear Mary
Hoot & Curley and Jack Ford - Old Time Religion
Jimmy Newman - Come Back To Me
Benny Barnes - The Waltz Of The Angels
Benny Barnes - The Next Voice You Hear
George Jones - Why Baby Why
Rose Maddox - Tall Men
Werly Fairburn - It's Heaven (& Theme and talk about Ark-La-Tex show)
Betty Amos - As Long As I'm Moving
Hoot & Curley and Jack Ford - Mansion In The Sky
Johnny Horton - One Woman Man
Jeanette Hicks & Jack Ford - Beautiful Brown Eyes
Buddy Attaway - Y'All Come
Jeanette Hicks - Searching
David Houston - Hasta Luego
Martha Lynn - I'm Goin' Huntin' Tonight
Jimmy Newman - Seasons Of My Heart (& Intro about 9th year)
Jeanette Hicks - Bo Weevil
Buzz Busby - Muleskinner Blues
Benny Barnes - Poor Man's Riches
Disc 6:


Werly Fairburn - Everybody's Rocking
Outro and theme - Outro and theme
Jack Ford - Since I Met You Baby (& Intro Logan)
Betty Amos - I Dreamed
The Geezinslaw Brothers - Billboard Song
The Geezinslaw Brothers - Singin' The Blues
Jeanette Hicks & James O'Gwynn - Yearning
Rusty & Lita Carson - I'm Tired
Werly Fairburn - My Heart's On Fire
Werly Fairburn - Speak To Me Baby
Bob Gallion - We'll Never Say Goodbye, Just So Long
Bob Gallion - Hey Mr. Bartender
Tibby Edwards - Walking And Crying With The Blues
Johnny Mathis - Live And Let Live
King Sterling - What Will Your Answer Be'
Jack Ford - You're Still Mine
Jack Ford - Not Sure Of You
James O'Gwynn - Playing Dominoes And Shooting Dice
Werly Fairburn - I Guess I'm Crazy
Jimmy & Johnny - Sweet Love On My Mind
Johnny Horton - I'm Coming Home
Johnny Horton - Not Like I Did Before
Bob Gallion - You Gotta Have A Heartbreak (& Outro)
The Jordanaires - Working On A Building
Elvis Presley - Heartbreak Hotel
Elvis Presley - I Was The One
Disc 7:


Elvis Presley - Don't Be Cruel
Elvis Presley - When My Blue Moon Turns To Gold Again
Elvis Presley - Long Tall Sally
Horace Logan - Horace Logan announcements (and Elvis has left the building)
The Geezinslaw Brothers - Orange Blossom Special
Buffalo Yount - Bile 'Em Cabbage Down (& Intro)
Jimmy & Johnny - I'll Do It Every Time
Carl Belew - Lonely Street
Jack Ford - Lonesome Letter Blues
Hayriders - Little Maggie (& Talk and theme out)
Martha Lynn - I Can't Live Without Love
James O'Gwynn - Do You Miss Me'
Jack Ford & the Four B's - Heaven's Just A Prayer Away
Jimmy & Johnny - What You Doin' To Me'
James O'Gwynn - I Cry (& Intro theme)
Buffalo Yount - Devil's Dream
Martha Lynn - Let Me Talk To You
Linda Brannon - I'll Be Lonesome When You're Gone
The Four B's - That'll Be The Day (& Intro and theme)
Johnny Horton - Take The Long Way Home Tonight
Charlie Phillips - Sugar Time
Tommy Blake - Flatfoot Sam
Carl Smith - You Are The One
Johnny Mathis - Honeycomb (& Intro & Frank Page)
Johnny Horton - John Henry
Jimmy Edwards - Love Bug Crawl
Outro & Theme - Outro & Theme
Disc 8:


James O'Gwynn - Two Little Hearts (& Intro theme)
Carl Belew & the Four B's - Stop The World And Let Me Off
Johnny Horton - Honky Tonk Hardwood Floor
Mallie Ann & Slim - Somebody Else Is Taking My Place
Dobber Johnson - Swamp Fever
Outro theme - Outro theme
Johnny Cash - Big River
The Osborne Brothers - Making Plans
Tony Douglas - Old Blue Monday (& Theme and intro)
Ann Jones - It Takes A Whole Lot Of Lovin'
Jimmy Martin - Hit Parade Of Love
Lucy Lynn - Got A Lot Of Livin' To Do
Mallie Ann & Slim - When They Ring Them Golden Bells
Jimmy Martin & Dobber Johnson and JD Crowe - Pike County Breakdown
Outro talk and theme - Outro talk and theme
Intro and theme - Intro and theme
Slim Whitman - Careless Hands (& Talk marking 520 broadcasts)
Jerry Kennedy - Oo Wee Baby
Betty Amos - I Gotta Know
Werly Fairburn - There'll Be No Teardrops Tonight
Jimmy Martin - Sophronie (& Outro theme)
Jimmy Martin - Ocean Of Diamonds (& Theme and Intro of 10th Anniversary show)
Martha Lynn - Conchita Of Laredo (& Talk about night format)
Jerry Jericho - Cajun Pete Jingle for Dr Tichenor
Jerry Kennedy - Teenage Love Is Misery
Jerry Kennedy - Be Bop A Lula
Margie Singleton - Teddy
The Hayride Band - Texas Playboy Rag (& Talk about Elvis telegram)
Webb Pierce - In The Jailhouse Now (& Talk about Logan)
Webb Pierce - Love Love Love
Webb Pierce - I Don't Care
Disc 9:


Johnny Bailes - I Saw The Light (& Talk about anniversary picture)
The Browns - I Heard The Bluebirds Sing
The Browns - Ain't No Way In The World
The Browns - The Man In The Moon
Faron Young - If You Ain't Lovin' You Ain't Livin' (& Talk about history)
Faron Young - Sweet Dreams
Faron Young - I've Got Five Dollars And It's Saturday Night
Faron Young - Rosalee's Gonna Get Married
Smokey Stover - Family Reunion
Jimmie Davis - Come Home, It's Suppertime
Jimmie Davis - My Lord Will Lead Me Home
Jimmie Davis - You Are My Sunshine
Jimmie Davis - Encore
Bob Shelton - Keep Them Cold Icy Fingers Off Of Me
Margie Singleton - Angel Hands
Margie Singleton - Face To The Wall
Johnny Mathis - The Same Old Me
Melvin Endsley - Knee Deep In The Blues
Martha Lynn - The End Of My World (& Jingle)
Ray Jackson - So Used To Lovin' You (& 10th anniversary ads)
Webb Pierce - Slowly
Webb Pierce & Buddy Attaway - In The Jailhouse Now
Theme and Frank Page - Theme and Frank Page talking to Faron Young
Billy Walker - It'll Take A While
Bob Luman - Love Is A Precious Thing
Faron Young - I Miss You Already
Disc 10:


Faron Young - I'm Gonna Live Some Before I Die
James O'Gwynn & Johnny Mathis - What Do You Know About Heartaches'
Johnny Horton - My Bucket's Got A Hole In It (& Intro theme and line-up talk)
Jimmy Martin - Sophronie
Homer & Jethro - Don't Let The Stars Get In Your Eyeballs
The Four B's - Nine Pound Hammer
Mallie Ann Harbert - I Want To Be Happy
Talk and outro theme - Talk and outro theme
Ferlin Husky - I Feel Better All Over (& Theme and Page talking about first new series)
Ferlin Husky - Gone
Ferlin Husky as Simon Crum - Country Music Is Here To Stay
Johnny Horton - Jambalaya (& Intro about friendliest city)
Dee & Patty - First Date (& Horton introduces Dee & Patty)
Jimmy Martin - Skip Hop And Wobble
Jimmy Martin - Somebody Touched Me
Outro - Outro
Hayride intro theme - Hayride intro theme
James O'Gwynn - Talk To Me Lonesome Heart
Ferlin Husky - Alabama Jubilee
The Four B's - Once More
Tony Douglas - I've Got The World In My Arms
Margie Singleton - I Want To Be Where You're Gonna Be Tonight
- Intro and KWKH Theme
George Jones - Nothing Can Stop Me
George Jones - Color Of The Blues
Linda Brannon - Wherever You Are
George Morgan - Candy Kisses
Hayride Outro - Hayride Outro
Faron Young - Everytime I'm Kissing You
Margie Singleton - Blue Blue Day
Faron Young - Live Fast Love Hard Die Young
Disc 11:


Faron Young - Alone With You (& Intro theme and talk)
Jimmy & Johnny - I Can't Find The Doorknob
Margie Singleton & the Four B's - You're The Nearest Thing To Heaven
Faron Young & the Four B's - Mansion Over The Hilltop
Jimmy & Johnny - Down By The Riverside
George Jones - I'm Ragged But I'm Right
Horton and outro - Horton and outro
Hayride Theme Intro - Hayride Theme Intro
James O'Gwynn - Invitation To The Blues
The Browns - Would You Care
Jimmy Martin - Sunny Side Of The Mountain
Theme and intro - Theme and intro
Melvin Endsley - I'd Just Be Fool Enough
Carl Belew - My Baby's Not Here In Town Tonight
Jimmy Martin - When The Saviour Reached Down (& Outro)
Johnny Horton - Honky Tonk Man (& Theme and intro)
Louvin Brothers - Cash On The Barrelhead
Louvin Brothers - My Baby Is Gone
Margie Singleton & the Four B's - I Can't Help Wondering
Charlie Walker - Pick Me Up On Your Way Down
Jimmy Newman - Let The Whole World Talk
Jimmy Newman - What A Friend We Have In Jesus
Announcements and Outro - Announcements and Outro
Ernest Tubb - You're The Only Good Thing
Ernest Tubb - Walking The Floor Over You
Ernest Tubb - Traveling Blues
Ray Price - I'll Sail My Ship Alone
Ray Price - Oklahoma Hills
Jim Reeves - How Many
Jim Reeves - Waitin' For A Train
Disc 12:


Jim Reeves - Have I Told You Lately
Jim Reeves - According To My Heart
Johnny Mathis - Lonely Night
Johnny Mathis - Grin And Bear It
Margie Singleton - Don't Let The Stars Get In Your Eyes
Jimmy Martin - Rock Hearts
Jimmy Martin - Jimmie Brown The Newsboy
The Gays - Alone At The Harbor
Norma Jean Beasler - The Lady And The Gambler
Talk about KWKH shows and theme - Talk about KWKH shows and theme
Roy Acuff - I Like Mountain Music
The Wilburn Brothers - Somebody's Back In Town
Shot Jackson - You Can Take The Boy Out Of The Country
June Webb - I Cried Again
Roy Acuff - How Beautiful Heaven Must Be
Don Helms - Smoke Along The Track
Roy Acuff - Traveling The Highway Home
Johnny Mathis - Tragic Romance
Johnny Mathis - Hang Your Head In Shame
Johnny Mathis & Carla Cates - Running Wild
Dobber Johnson - Lost Indian (& Intro)
Merle Kilgore - Mona Lisa
Charlie Walker - I Don't Mind Saying
Margie Singleton - The Eyes Of Love
Felton Pruett - Boot Heel Drag
Doug Bragg - If I Find My Dream Girl
Charlie Walker - Tell Her Lies And Feed Her Candy (& Intro ID)
Charlie Walker - I'll Catch You When You Fall
Disc 13:


Merle Kilgore, Margie Singleton & Jimmy Jay - Love Has Made You Beautiful
Doug Bragg - Almost Lonely
Johnny Mathis - Country Girl
Frankie Miller - Family Man (& Talk and station ID Harlingen Texas)
James O'Gwynn - Tears Of Tomorrow
The Gays - Just Keep It Up
Johnny Horton - Johnny Reb
Frankie Miller - Under Your Spell Again
Carl Belew - Am I That Easy To Forget
Johnny Horton - Sal's Got A Sugar Lip
Johnny Horton - Springtime In Alaska
Johnny Horton - Battle Of New Orleans (& Talk about top disc of the year)
Frankie Miller - I'm Ragged But I'm Right (& Intro)
Dean Evans - The Kind Of Love I Can't Forget
David Houston - My Baby Walks All Over Me
Bob Luman - Red Cadillac And A Black Mustache (& Intro)
Rusty & Doug Kershaw - Dancing Shoes
Rusty & Doug Kershaw - Love Me To Pieces
Tony Douglas - Long Gone Lonesome Blues (& Intro)
Frankie Miller - Big Harlan Taylor
Dee Mullin - Running Gun
Buddy & Bob - Woman's Intuition
Jerry Jericho - Who's Gonna Chop My Baby's Kindling When I'm Gone
Jerry Jericho - Faded Love
Frankie Miller - The Honeymoon Is Over
Frankie Miller - Blackland Farmer
Disc 14:


Dobber Johnson - Liberty (& Intro theme)
Johnny Horton - Same Old Tale The Crow Told Me (& Talk)
Jay Chevalier - Flip Flop And Fly
Jimmy Lee - May You Never Be Alone
Jimmy Lee - Cocaine Blues
Johnny Horton - Hole In My Pirogue
Johnny Horton - Whispering Pines
Marion Worth - My Home In San Antone
Frankie Miller - Mary Don't You Weep
Lump Lump Boys - Devil's Dream (& Intro theme)
Elsie Holly - Have I Waited Too Long
Elsie Holly - I'll Be All Smiles Tonight
Frankie Miller - Money Side Of Life
Carla Cates - Two Little Hearts (& Talk)
Frankie Miller - Reunion (With Dinner On The Ground)
Connie Hall - The Bottle Or Me
Dean Evans - Standing At The End Of My World
Jerry Jericho - Somebody's Always Pushing Me
Tony Douglas, Frankie Miller and Dee Mullin - I Saw The Light
Connie Hall - I'm The Girl In The USA
Dobber Johnson - Tennessee Wagoner (& Intro theme)
James O'Gwynn - Someone Sweet To Love
James O'Gwynn - If I Don't Love You Grits Ain't Groceries
Roger Miller - That's The Way I Feel
Lawton Williams - Geisha Girl
Lawton Williams - I Don't Care Who Knows
Disc 15:


Roger Miller - Your House Is Not A Home
Jerry Jericho - Oh Boy
Roger Miller - Billy Bayou
Elsie Holly - I'd Rather Stay Home
The Gays - Just A Closer Walk With Thee
The Gays - I Wonder Just When That Will Be
George Jones - Too Much Water
George Jones - Accidentally On Purpose
The Hooper Twins - Which One Of Us Is To Blame'
The Gays - Running Bear
George Jones - Treasure Of Love
George Jones - Sparklin' Brown Eyes
Vera & Verna Gay - Red Sails In The Sunset
Talk about next week in Texas and Outro theme - Talk about next week in Texas and Outro theme
Dee Mullin - Alone With You (& Intro from Brownwood, Texas)
The Hayride Band - Playboy Rag
Jack Newman - I Just Can't Stand These Blues
Dean Evans - Nobody Loves A Broken Heart
The Chimes - Above And Beyond
The Chimes - Free Me (From The Blues)
Carla Cates - Two Hoots And A Holler
Jamup & Honey - Anytime
Disc 16:


James O'Gwynn - Wishful Thinking (& Intro band)
The Gays - Party Doll
Joe Janka - Who'll Be The First
James O'Gwynn - That's All I Got From You
The Chimes - Streamlined Cannonball
Tony Douglas - The Same Two Lips
Jerry Jericho - Among Your Souvenirs
The Hooper Twins - You're Not The Same Anymore
Wilma Lee & Stoney Cooper - Big Midnight Special
Elsie Holly - The One You Slip Around With
Bill Carlisle - Same Old Tale The Crow Told Me
Bill Carlisle - No Help Wanted
Dee Mullin - Just One Time
Ken Marvin - Uh Huh Honey
Dobber Johnson - Cotton Eyed Joe (& Theme and cast)
Bob Luman - I'm Walkin'
Bob Luman - Lonely Weekends
Jerry Jericho - Gotta Travel On
The Bennett Brothers - Head Over Heels In Love With You
The Bennett Brothers - Earl's Breakdown
Tony Douglas - Baby When The Sun Goes Down (& Intro and theme )
Bob Shelton & The Jones Junction Gang - Tater Pie
Mallie Ann - I Didn't Know The Gun Was Loaded
Disc 17:


Margaret Lewis - One Guy Today, Another Tomorrow
Margaret Lewis - Bring My Blue Eyed Boy To Me
Frankie Miller - She's Gone
Tony Douglas, Frankie Miller and Dee Mullin - How Can You Refuse Him Now'
Margaret Lewis - You Said You Love Me
Margaret Lewis - Goin' To St. Louie
Johnny Sea - Nobody's Darlin' But Mine
Outro and messages - Outro and messages
Dobber Johnson - Old Joe Clark (& Theme)
Tony Douglas - Thunder And Lightning
Frankie Miller - Why I'm Walking
June Carter - 30 Days (& Ads and intro)
June Carter - Big Iron
June Carter - Poems
June Carter - Worried Man Blues
Frankie Miller - Baby Rocked Her Dolly
June Carter - He Don't Love Me Anymore
Jerry Jericho - Don't Just Stand There
Jerry Jericho - This Song Is Just For You
Marlene Allen - Paper Roses
George Kent & Dee Mullin - Don't Go Back Again
Dorothy & David - Before I Met You
Dorothy & David - So Long I'm Gone
Disc 18:


Wynn Stewart - The Keeper Of The Key (& Imitations)
Wynn Stewart - Heartaches For A Dime
Jack Reno - A Brand New Heartache
Jack Reno - Leather Jacket
Merle Kilgore - Love Has Made You Beautiful (& Intro)
Merle Kilgore - More And More
Merle Kilgore - Pipeliner Blues
Dorothy & David - Oh So Many Years
Jack Reno - The Moon Won't Tell
Jack Reno - Wonder Drug
Johnny Harris - Doggone
Johnny Harris - Cajun Weekend
James O'Gwynn - I Won't Love You Anymore
Warren Smith - Rock 'n' Roll Ruby
Warren Smith - I Don't Believe I'll Fall In Love Today
Warren Smith - Ubangi Stomp
Impersonations - Impersonations
Announcement about closing the weekly Hayride - Announcement about closing the weekly Hayride
Fay Darling - Louisiana
Award to Merle Kilgore - Award to Merle Kilgore
Merle Kilgore - Please Help Me I'm Falling
Jerry Jericho - I Wasted A Nickel Last Night
Warren Smith - Singing The Blues (& Donut ad)
Warren Smith - Cave In
Talk and theme out - Talk and theme out
Disc 19:


Intro theme and cast introduction - Intro theme and cast introduction
Bobbie Jean Barton - Please Help Me I'm Falling
Bobbie Jean Barton - You Burned The Bridges
The Sons Of Dixie - My Window Faces The South
David Houston - Sioux City Sue
Buster & Kay Doss - It's A Sin To Tell A Lie
Bobbie Jean Barton - Jealous Heart
Jimmy Jay - Jolie Jole
Buster & Kay Doss - I Wanna Be Loved
Dean Evans - Time Changes Everything
Jerry Jericho - I Know It's Wrong
Jerry Jericho - May The Good Lord Bless And Keep You
Johnny Mathis - (I'd Be) A Legend In My Time
Announcer and theme out - Announcer and theme out
Intro announcement about this being the last weekly Hayride - Intro announcement about this being the last weekly Hayride
Tony Douglas - Familiar Heartaches
Buster & Kay Doss - In The Jailhouse Now (& Comedy)
Johnny Mathis - When I Came Thru Town
James O'Gwynn - You're Too Easy To Remember
Grandpa Jones - Are You From Dixie
Grandpa Jones - Melinda (& Announcements)
Grandpa Jones - Waiting For A Train
Final weekly sign off - Final weekly sign off
Disc 20:


Marty Robbins - I Can't Quit
Nat Stuckey - I Ain't Gonna Let It Happen No More
Tex Ritter - I Dreamed Of A Hillbilly Heaven
Tex Ritter - Teneha, Timpson, Bobo, and Blair
Don Gibson - Oh Lonesome Me
Don Gibson - I Can't Stop Loving You
Claude King - I've Got The World By The Tail
Louvin Brothers - I Don't Believe You've Met My Baby
Louvin Brothers - I Can't Keep You In Love With Me
Rusty & Doug - Louisiana Man
Rusty & Doug - Big Mamou
Merle Kilgore - I'll Take Ginger And Run Away
Merle Kilgore - You're The Reason
Bob Shelton - Country Boy
George McCormick - White Lightning
Introduction and theme - Introduction and theme
Johnny Western - Lonesome Number One
Hawkshaw Hawkins - Pan American
Hawkshaw Hawkins - Twenty Miles From Shore
Jean Shepard - The Biggest Cry
Stonewall Jackson - Life To Go
Stonewall Jackson - Five Feet High And Rising
Johnny Cash - Give My Love To Rose (& Donut ad)
Johnny Cash - The Rebel Johnny Yuma
Jimmy Newman - Alligator Man
Sonny James - The Minute You're Gone
Hank Snow - I'm Here To Get My Baby Out Of Jail