Product Details
An MVD Exclusive
Format: CD
SKU: BCD17518
UPC: 5397102175183
Street Date: 05/18/18
PreBook Date: 02/16/18
Label: Bear Family Records »
Genre: Country
Run Time: 313 mins
Number of Discs: 4
Year of Production: 2018
Box Lot: 0
Territory: NORTH AMERICA
Language: English
Product Assets
Battleground Korea: Songs And Sounds Of America's Forgotten War
4-CD deluxe boxed set with 160-page hardcover book, 121 tracks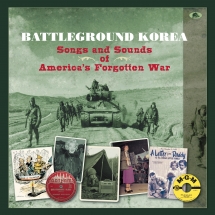 List Price: $129.99
Your Price: $97.49
In Stock: YES

Not purchasing for a business? See our consumer site.
Rarely heard documentary audio material, including patriotic public service announcements, field news reports and even a plea for blood donations from Howdy Doody!
A richly illustrated, colorfully illustrated book with detailed artist and song notes as well as a history of the Korean War.

Audio mastering and the layout for 'Battleground Korea' was recently completed and we can now announce the release of this project for Bear Family (where it belongs) at the end of March 2018. The bound book will appear in a sturdy slipcase (approx. 28 x 28 cm) similar to the current Woody Guthrie 'Tribute Concerts' set. There will be detailed background information on each of the approximately 100 songs included in the edition, as well as artist biographies and extra chapters with transcriptions of the texts, illustrated with photos of that time, advertisements, flyers, magazines, record sleeves, book covers and other memorabilia.
Among the book's special chapters are an interview with Frankie Miller, recalling his time in Korea, and a nine-page section with photos and newspaper headlines describing Marilyn Monroe's visit to the troops.
At the time of the 1953 ceasefire agreement, which ended the war, some 327,000 US soldiers were still in Korea. In the course of 1954, this number was reduced by more than 30% to just over 225,000. Many of these troops were fortunate enough to see Marilyn Monroe during her four-day USO tour of the military bases in February of 54. Many of the photos of Marilyn, who fulfilled her 'patriotic duty' in Korea for thousands of grateful soldiers, were only recently found in the archives of the US Army and have rarely been seen before.
Media
Track Listing
Disc 1:
U.N. Spokesperson - War starts in Korea' (June 25, 1950) (narration)
Lightnin' Hopkins - War News Blues
Sunshine Boys Quartet - God Please Protect America
Wally Fowler and His Oakridge Quartet - Pray, Pray, Pray (For The U.S.A.)
President Truman - President Truman speaks on war in Korea (April 1951) (narration)
Hank Harral and His Palomino Cowhands - When They Raised The U.N. Flag In South Korea
The Four Barons - Got To Go Back Again
Sunnyland Slim and His Trio - Back To Korea Blues
Harry Choates and His Fiddle - Korea, Here We Come
Vince Mondi - Goodbye Maria (I'm Off To Korea)
Paul Mims - My New Career Is In Korea
Vance Brothers - Draftboard Blues
Ray Anderson and Tennessee Mountaineers - Draft Board Blues
Arkie Shibley and His Mountain Dew Boys - Uncle Sam Has Called My Number
Smilin' Eddie Varnado and The Delta Ranch Hands - I'm A Soldier Boy Again
Harvey Stone - Here We Go Again
Fats Domino - Korea Blues
Clifford Blivens with the Johnny Otis Band - Korea Blues
Willie Brown - Korea Blues
Max Bailey - Sorry Girl Blues
B.B. King - Questionnaire Blues
John Lee Hooker - Questionnaire Blues
Sonny Thompson - Uncle Sam Blues
Lloyd Price and His Orchestra - Mailman Blues
Big Boy Crudup - Mr. So And So
Bob Newman - Greetings
Tani Allen and His Tennessee Pals - I'm Back In The Army
Cactus Pryor and His Pricklypears - (In Again, Out Again) Packing Up My Barracks Bags Blues
Montana Slim (Wilf Carter, The Singing Cowboy) - The K.P. Blues
Vic Damone / Vaughn Monroe - Message From Vic Damone (incl. excerpt from 'Sound Off' by Willie Lee Duckworth)
The Rockets and Hugo Winterhalter and His Orchestra - The Girls Are Marching
Disc 2:


Newsreel Announcer - Heading for Korea
The Gospel Pilgrims - Korea (Fightin' In The Foreign Land)
Bill Cason - Foxhole In Korea
Steve Rogers - Inchon
Jimmie Osborne - Thank God For Victory In Korea
John Carpino - The Ballad Of Chosin
Oscar Brand & Short Arms - We're Moving On
J.B. Lenoir - I'm In Korea
Narrated by Eric Sevareid / Robert Pierpoint, CBS News - Robert Pierpoint under fire in Korea' (May 17, 1951) (narration)
Delmore Brothers - Heartbreak Ridge
Ernest Tubb - A Heartsick Soldier On Heartbreak Ridge
The Four Lads with Narration by Edward R. Murrow - Where The Need Is
Elton Britt - Korean Mud
Howdy Doody - Request for blood donations
Tommy (Weepin' and Cryin') Brown - No News From Home
Sherman "Blues" Johnson & His Clouds of Joy - Lost In Korea
Jack Powers - From A Foxhole
William Cook Accompanied by The Marshall Brothers - A Soldier's Prayer
Rocky Porter - Please Say A Prayer (For The Boys Over There)
Lightnin' Hopkins - Sad News From Korea
Sonny Osborne - A Brother In Korea
The Louvin Brothers - From Mother's Arms To Korea
Carl Sauceman and The Green Valley Boys - Wrap My Body In Old Glory
Slim Rhodes - Red White And Blue
Elton Britt and The Skytoppers - Rotation Blues
Billy Mize with Bill Woods and His Orange Blossom Playboys - Pusan
Jim Eanes - A Prisoner Of War
Kay Kellum and His Dixie Ramblers - When I Get Back
The Kalvin Brothers - Somewhere In Korea
Disc 3:


Newsreel Announcer - A GI Writes to His Kids - a Posthumous Letter (September 1950)
Red Foley - Dear Little Girls
Tex Ritter - Daddy's Last Letter
Tiny Hill - Two Letters
Jackie Doll and His Pickled Peppers - When They Drop The Atomic Bomb
Alan Jackson, CBS News / President Truman - The Truman-MacArthur dispute that led the President to fire the General' (April 11, 1951) (narration)
R.D. Hendon With The Western Jamboree Cowboys - Oh! Mr. President
General MacArthur - General Of The Army Douglas MacArthur Reports To Congress' (April 19, 1951) (narration)
Gene Autry - Old Soldiers Never Die
Jimmie Short and the Silver Saddle Ranch Boys - (Old Generals Never Die) They Just Fade Away
Ray Snead - Fade Away Baby
James E. Van Zandt - Rep. James E. Van Zandt supports the use of the Atomic Bomb in Korea' (May 8, 1953) (narration)
Skeets McDonald - Please Daddy, Don't Go To War
George Simerly and His Tennesseans - Why Does The Army Need My Daddy
Cecil Gant - God Bless My Daddy
Oklahoma Sweethearts - Don't Steal Daddy's Medal
Jimmie Heap and The Melody Masters - God Is On Our Side
The Dixie Ramblers - I'll Be Glad When It's Over (Over There)
Roscoe Hankins - I'm Prayin' For The Day (When Peace Will Come)
Edna McGriff - Heavenly Father
Gene Autry - At Mail Call Today
Jean Shepard with Recitation by Ferlin Husky - A Dear John Letter
Pete Lane and Bernice Stabile - John's Reply
Jack Cardwell - Dear Joan
Jean Shepard with Recitation by Ferlin Husky - Forgive Me John
Emitt Slay Trio - Male Call
Hank Penny - A Letter From Home
The Promenade Band with Male Chorus - I Like Ike
General Eisenhower - I shall go to Korea...' (October 24, 1952) (narration)
Little Maxie - Drive Soldier Drive
Eddie Kirk - Five Star President
Disc 4:


President Eisenhower - 'announces an armistice in Korea...' (July 27, 1953) (narration)
Sister Rosetta Tharpe - There's Peace In Korea
The Revelers - Ike
Jimmie Osborne - The Korean Story
Arthur Big Boy Crudup - The War Is Over
Lightening Hopkins - The War Is Over
Soldier Boy Houston - Leavin' Korea
Jimmie Dale - Hello Maria
King Perry Orchestra with Vocal by Dell St. John - Welcome Home Baby
Rose Brown and Jimmie Harris with Bubbles and His Band - Back From Korea
Dave Bartholomew - No More Black Nights
Jimmy Witherspoon - Back Home
Margie Collie - His New War Bride
Newsreel Announcer - Harry Holt brings Korean war orphans to Portland, Oregon' (circa 1956) (narration)
Kwan Li - The Legend Of Harry Holt
Don Windle with Band - The Iron Curtain Has Parted
Ernest Tubb - Missing In Action
Smilin' Jim Eanes and His Shenandoah Valley Boys - Returned From Missing In Action
Billy Strange - I'm Still A Prisoner
Merle Travis - Re-Enlistment Blues
Red River Dave - The Red Deck Of Cards
Eddie Hill - I Changed My Mind (And I'll Go Home Again)
Jim & Jesse and The Virginia Boys - Purple Heart
Don Red Barry - White Cross In Korea
Marvin Rainwater - Korea's Mountain Northland
Carl Sauceman with the Green Valley Boys - A White Cross Marks The Grave
Elton Britt - The Unknown Soldier
Red River Dave - Searching For You, Buddy
Don Reno, Red Smiley And The Tennessee Cutups - Forgotten Men
Dick Curless - China Nights (Shina No Yuro)