Product Details
An MVD Exclusive
SKU: AV059
Format: Blu-Ray/DVD
UPC: 760137874294
Street Date: 07/26/16
PreBook Date: 06/07/16
Label: Arrow Video »
Genre: Cult
Run Time: 107 mins
Number of Discs: 2
Audio: STEREO
Year of Production: 1984
Region Code: 0
Box Lot: 30
Territory: US
Language: English
Cast & Crew
Actors:
Kathleen Turner
Anthony Perkins
John Laughlin
Bruce Davison
Director: Ken Russell
Product Assets
Crimes Of Passion
She is watched. She is worshipped. And she must remain a mystery.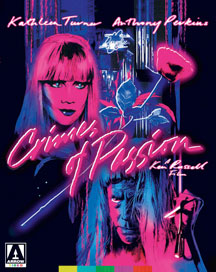 List Price: $39.95
Your Price: $39.95
In Stock: 226

You must login to place orders.



In the early eighties British enfant terrible Ken Russell travelled to America and placed his unorthodox imprint on a pair of US movies. The first was the Altered States, so out-there its screenwriter disowned it. The second was the equally crazy Crimes of Passion, starring Kathleen Turner (Body Heat, Serial Mom) at the height of her powers. Fashion designer Joanna Crane (Turner) leads a double life. By night she is China Blue, a prostitute who's attracted the unwanted attention of two men. One is a sexually frustrated private detective hired by her employees. The other is psychopathic priest (played by Norman Bates himself, Anthony Perkins) in possession of a murderous sex toy. With its outré screenplay by Barry Sandler and over the top score by Rick Wakeman, Crimes of Passion may just be the most outrageous Ken Russell film ever made - and that's quite some feat!
Media
Bonus Materials
Brand new 2K restoration of the film from original film materials
High Definition Blu-ray (1080p) and Standard Definition DVD presentations of the director's cut and unrated versions of the film
Optional subtitles for the deaf and hard of hearing
Audio commentary with director Ken Russell and producer-screenwriter Barry Sandler
Seven deleted/extended scenes with optional commentary by Sandler
Brand-new interview with Sandler recorded especially for this release
Home movie footage of Ken Russell visiting Florida for a retrospective screening of Crimes of Passion at the 2009 Florida Film Festival
Theatrical trailer
Reversible sleeve featuring original and newly commissioned artwork by Twins of Evil
Illustrated booklet containing new writing by Ken Russell's biographer, Paul Sutton, correspondence between Russell and Kathleen Turner, and an on-set interview with Russell
Brand new 2K restoration of the film from original film materials
High Definition Blu-ray (1080p) and Standard Definition DVD presentations of the director's cut and unrated versions of the film
Optional subtitles for the deaf and hard of hearing
Audio commentary with director Ken Russell and producer-screenwriter Barry Sandler
Seven deleted/extended scenes with optional commentary by Sandler
Brand-new interview with Sandler recorded especially for this release
Home movie footage of Ken Russell visiting Florida for a retrospective screening of Crimes of Passion at the 2009 Florida Film Festival
Theatrical trailer
Reversible sleeve featuring original and newly commissioned artwork by Twins of Evil
Illustrated booklet containing new writing by Ken Russell's biographer, Paul Sutton, correspondence between Russell and Kathleen Turner, and an on-set interview with Russell
Brand new 2K restoration of the film from original film materials
High Definition Blu-ray (1080p) and Standard Definition DVD presentations of the director's cut and unrated versions of the film
Optional subtitles for the deaf and hard of hearing
Audio commentary with director Ken Russell and producer-screenwriter Barry Sandler
Seven deleted/extended scenes with optional commentary by Sandler
Brand-new interview with Sandler recorded especially for this release
Home movie footage of Ken Russell visiting Florida for a retrospective screening of Crimes of Passion at the 2009 Florida Film Festival
Theatrical trailer
Reversible sleeve featuring original and newly commissioned artwork by Twins of Evil
Illustrated booklet containing new writing by Ken Russell's biographer, Paul Sutton, correspondence between Russell and Kathleen Turner, and an on-set interview with Russell
Brand new 2K restoration of the film from original film materials
High Definition Blu-ray (1080p) and Standard Definition DVD presentations of the director's cut and unrated versions of the film
Optional subtitles for the deaf and hard of hearing
Audio commentary with director Ken Russell and producer-screenwriter Barry Sandler
Seven deleted/extended scenes with optional commentary by Sandler
Brand-new interview with Sandler recorded especially for this release
Home movie footage of Ken Russell visiting Florida for a retrospective screening of Crimes of Passion at the 2009 Florida Film Festival
Theatrical trailer
Reversible sleeve featuring original and newly commissioned artwork by Twins of Evil
Illustrated booklet containing new writing by Ken Russell's biographer, Paul Sutton, correspondence between Russell and Kathleen Turner, and an on-set interview with Russell
Brand new 2K restoration of the film from original film materials
High Definition Blu-ray (1080p) and Standard Definition DVD presentations of the director's cut and unrated versions of the film
Optional subtitles for the deaf and hard of hearing
Audio commentary with director Ken Russell and producer-screenwriter Barry Sandler
Seven deleted/extended scenes with optional commentary by Sandler
Brand-new interview with Sandler recorded especially for this release
Home movie footage of Ken Russell visiting Florida for a retrospective screening of Crimes of Passion at the 2009 Florida Film Festival
Theatrical trailer
Reversible sleeve featuring original and newly commissioned artwork by Twins of Evil
Illustrated booklet containing new writing by Ken Russell's biographer, Paul Sutton, correspondence between Russell and Kathleen Turner, and an on-set interview with Russell
Brand new 2K restoration of the film from original film materials
High Definition Blu-ray (1080p) and Standard Definition DVD presentations of the director's cut and unrated versions of the film
Optional subtitles for the deaf and hard of hearing
Audio commentary with director Ken Russell and producer-screenwriter Barry Sandler
Seven deleted/extended scenes with optional commentary by Sandler
Brand-new interview with Sandler recorded especially for this release
Home movie footage of Ken Russell visiting Florida for a retrospective screening of Crimes of Passion at the 2009 Florida Film Festival
Theatrical trailer
Reversible sleeve featuring original and newly commissioned artwork by Twins of Evil
Illustrated booklet containing new writing by Ken Russell's biographer, Paul Sutton, correspondence between Russell and Kathleen Turner, and an on-set interview with Russell
Brand new 2K restoration of the film from original film materials
High Definition Blu-ray (1080p) and Standard Definition DVD presentations of the director's cut and unrated versions of the film
Optional subtitles for the deaf and hard of hearing
Audio commentary with director Ken Russell and producer-screenwriter Barry Sandler
Seven deleted/extended scenes with optional commentary by Sandler
Brand-new interview with Sandler recorded especially for this release
Home movie footage of Ken Russell visiting Florida for a retrospective screening of Crimes of Passion at the 2009 Florida Film Festival
Theatrical trailer
Reversible sleeve featuring original and newly commissioned artwork by Twins of Evil
Illustrated booklet containing new writing by Ken Russell's biographer, Paul Sutton, correspondence between Russell and Kathleen Turner, and an on-set interview with Russell
Brand new 2K restoration of the film from original film materials
High Definition Blu-ray (1080p) and Standard Definition DVD presentations of the director's cut and unrated versions of the film
Optional subtitles for the deaf and hard of hearing
Audio commentary with director Ken Russell and producer-screenwriter Barry Sandler
Seven deleted/extended scenes with optional commentary by Sandler
Brand-new interview with Sandler recorded especially for this release
Home movie footage of Ken Russell visiting Florida for a retrospective screening of Crimes of Passion at the 2009 Florida Film Festival
Theatrical trailer
Reversible sleeve featuring original and newly commissioned artwork by Twins of Evil
Illustrated booklet containing new writing by Ken Russell's biographer, Paul Sutton, correspondence between Russell and Kathleen Turner, and an on-set interview with Russell
Brand new 2K restoration of the film from original film materials
High Definition Blu-ray (1080p) and Standard Definition DVD presentations of the director's cut and unrated versions of the film
Optional subtitles for the deaf and hard of hearing
Audio commentary with director Ken Russell and producer-screenwriter Barry Sandler
Seven deleted/extended scenes with optional commentary by Sandler
Brand-new interview with Sandler recorded especially for this release
Home movie footage of Ken Russell visiting Florida for a retrospective screening of Crimes of Passion at the 2009 Florida Film Festival
Theatrical trailer
Reversible sleeve featuring original and newly commissioned artwork by Twins of Evil
Illustrated booklet containing new writing by Ken Russell's biographer, Paul Sutton, correspondence between Russell and Kathleen Turner, and an on-set interview with Russell
Brand new 2K restoration of the film from original film materials
High Definition Blu-ray (1080p) and Standard Definition DVD presentations of the director's cut and unrated versions of the film
Optional subtitles for the deaf and hard of hearing
Audio commentary with director Ken Russell and producer-screenwriter Barry Sandler
Seven deleted/extended scenes with optional commentary by Sandler
Brand-new interview with Sandler recorded especially for this release
Home movie footage of Ken Russell visiting Florida for a retrospective screening of Crimes of Passion at the 2009 Florida Film Festival
Theatrical trailer
Reversible sleeve featuring original and newly commissioned artwork by Twins of Evil
Illustrated booklet containing new writing by Ken Russell's biographer, Paul Sutton, correspondence between Russell and Kathleen Turner, and an on-set interview with Russell
Brand new 2K restoration of the film from original film materials
High Definition Blu-ray (1080p) and Standard Definition DVD presentations of the director's cut and unrated versions of the film
Optional subtitles for the deaf and hard of hearing
Audio commentary with director Ken Russell and producer-screenwriter Barry Sandler
Seven deleted/extended scenes with optional commentary by Sandler
Brand-new interview with Sandler recorded especially for this release
Home movie footage of Ken Russell visiting Florida for a retrospective screening of Crimes of Passion at the 2009 Florida Film Festival
Theatrical trailer
Reversible sleeve featuring original and newly commissioned artwork by Twins of Evil
Illustrated booklet containing new writing by Ken Russell's biographer, Paul Sutton, correspondence between Russell and Kathleen Turner, and an on-set interview with Russell
Brand new 2K restoration of the film from original film materials
High Definition Blu-ray (1080p) and Standard Definition DVD presentations of the director's cut and unrated versions of the film
Optional subtitles for the deaf and hard of hearing
Audio commentary with director Ken Russell and producer-screenwriter Barry Sandler
Seven deleted/extended scenes with optional commentary by Sandler
Brand-new interview with Sandler recorded especially for this release
Home movie footage of Ken Russell visiting Florida for a retrospective screening of Crimes of Passion at the 2009 Florida Film Festival
Theatrical trailer
Reversible sleeve featuring original and newly commissioned artwork by Twins of Evil
Illustrated booklet containing new writing by Ken Russell's biographer, Paul Sutton, correspondence between Russell and Kathleen Turner, and an on-set interview with Russell
Brand new 2K restoration of the film from original film materials
High Definition Blu-ray (1080p) and Standard Definition DVD presentations of the director's cut and unrated versions of the film
Optional subtitles for the deaf and hard of hearing
Audio commentary with director Ken Russell and producer-screenwriter Barry Sandler
Seven deleted/extended scenes with optional commentary by Sandler
Brand-new interview with Sandler recorded especially for this release
Home movie footage of Ken Russell visiting Florida for a retrospective screening of Crimes of Passion at the 2009 Florida Film Festival
Theatrical trailer
Reversible sleeve featuring original and newly commissioned artwork by Twins of Evil
Illustrated booklet containing new writing by Ken Russell's biographer, Paul Sutton, correspondence between Russell and Kathleen Turner, and an on-set interview with Russell
Press Quotes
Out of print for years this, 2000 restoration is to die for, as is the movie.

—Paper Magazine
Out of print for years this, 2000 restoration is to die for, as is the movie.

—Paper Magazine
Much more thoughtful than this type of exploitation fodder might otherwise be.

—Blu-ray.com
Out of print for years this, 2000 restoration is to die for, as is the movie.

—Paper Magazine
A whirlwind of kinkiness... Turner and Perkins have a field day chewing all available scenery, and Russell's typical visual sense is nicely on display. Recommended.

—Blu-ray.com
Out of print for years this, 2000 restoration is to die for, as is the movie.

—Paper Magazine
A whirlwind of kinkiness... Turner and Perkins have a field day chewing all available scenery, and Russell's typical visual sense is nicely on display. Recommended.

—Blu-ray.com
This controversial '80s cult classic from Russell shines on Blu-ray.

—Video Librarian
Out of print for years this, 2000 restoration is to die for, as is the movie.

—Paper Magazine
A whirlwind of kinkiness... Turner and Perkins have a field day chewing all available scenery, and Russell's typical visual sense is nicely on display. Recommended.

—Blu-ray.com
This controversial '80s cult classic from Russell shines on Blu-ray.

—Video Librarian
A really subversive and enthralling film that breaks stereotypes and kicks sexuality in the taint that is worth checking out

—Ain't It Cool News
Out of print for years this, 2000 restoration is to die for, as is the movie.

—Paper Magazine
A whirlwind of kinkiness... Turner and Perkins have a field day chewing all available scenery, and Russell's typical visual sense is nicely on display. Recommended.

—Blu-ray.com
A must-own for fans of Ken Russell and '80s cinema.

—Rue Morgue
A really subversive and enthralling film that breaks stereotypes and kicks sexuality in the taint that is worth checking out

—Ain't It Cool News
This controversial '80s cult classic from Russell shines on Blu-ray.

—Video Librarian
Out of print for years this, 2000 restoration is to die for, as is the movie.

—Paper Magazine
Out of print for years this, 2000 restoration is to die for, as is the movie.

—Paper Magazine
Much more thoughtful than this type of exploitation fodder might otherwise be.

—Blu-ray.com
Out of print for years this, 2000 restoration is to die for, as is the movie.

—Paper Magazine
A whirlwind of kinkiness... Turner and Perkins have a field day chewing all available scenery, and Russell's typical visual sense is nicely on display. Recommended.

—Blu-ray.com
Out of print for years this, 2000 restoration is to die for, as is the movie.

—Paper Magazine
A whirlwind of kinkiness... Turner and Perkins have a field day chewing all available scenery, and Russell's typical visual sense is nicely on display. Recommended.

—Blu-ray.com
This controversial '80s cult classic from Russell shines on Blu-ray.

—Video Librarian
Out of print for years this, 2000 restoration is to die for, as is the movie.

—Paper Magazine
A whirlwind of kinkiness... Turner and Perkins have a field day chewing all available scenery, and Russell's typical visual sense is nicely on display. Recommended.

—Blu-ray.com
This controversial '80s cult classic from Russell shines on Blu-ray.

—Video Librarian
A really subversive and enthralling film that breaks stereotypes and kicks sexuality in the taint that is worth checking out

—Ain't It Cool News
Out of print for years this, 2000 restoration is to die for, as is the movie.

—Paper Magazine
A whirlwind of kinkiness... Turner and Perkins have a field day chewing all available scenery, and Russell's typical visual sense is nicely on display. Recommended.

—Blu-ray.com
A must-own for fans of Ken Russell and '80s cinema.

—Rue Morgue
A really subversive and enthralling film that breaks stereotypes and kicks sexuality in the taint that is worth checking out

—Ain't It Cool News
This controversial '80s cult classic from Russell shines on Blu-ray.

—Video Librarian