Product Details
An MVD Exclusive
SKU: AV064
Format: Blu-ray (Reissue)
UPC: 760137891192
Street Date: 11/12/19
PreBook Date: 10/08/19
Label: Arrow Video »
Genre: Horror
Run Time: 88 mins
Number of Discs: 1
Audio: STEREO
Year of Production: 1986
Region Code: 1
Box Lot: 30
Territory: US
Language: English
Cast & Crew
Actors:
Ned Manning
Natalie McCurry
Peter Whitford
Wilbur Wilde
Director: Brian Trenchard-Smith
Product Assets
Dead-End Drive-In
THE PRICE OF ADMISSION IS THE REST OF YOUR LIFE.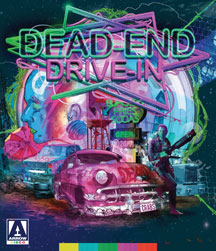 List Price: $29.95
Your Price: $29.95
In Stock: 180

You must login to place orders.



THE PRICE OF ADMISSION IS THE REST OF YOUR LIFE. One of Quentin Tarantino's favourite directors, Brian Trenchard-Smith was a key figure in the Ozploitation movement, responsible for The Man from Hong Kong, Stunt Rock, Turkey Shoot, BMX Bandits... and dystopian cult classic Dead-End Drive In! Set in a near-future where the economy has crumbled and violent gangs play havoc in the streets, the powers-that-be have decided to lure the delinquent youth into drive-in cinemas and keep them there. No longer just a place to watch trashy movies and make out, these outdoor picture shows have become concentration camps for the unruly and unwanted. With its day-glo colour scheme, new wave soundtrack and extraordinary stunt work, Dead-End Drive-In is in the tradition of Ozploitation milestones Mad Max and The Cars That Ate Paris only very, very eighties.
Bonus Materials
Brand new 2K restoration from original film materials
High Definition (1080p) Presentation
Optional English subtitles for the deaf and hard-of-hearing
Audio commentary by director Brian Trenchard-Smith
The Stuntmen, Trenchard Smith's classic television documentary on Grant Page (Mad Max, Road Games) and other Australian stunt performers
Hospitals Don't Burn Down, Trenchard-Smith's 1978 public information film told in pure Ozploitation fashion
Theatrical Trailer
Reversible sleeve featuring original and newly commissioned artwork by Chris Malbon
Brand new 2K restoration from original film materials
High Definition (1080p) Presentation
Optional English subtitles for the deaf and hard-of-hearing
Audio commentary by director Brian Trenchard-Smith
The Stuntmen, Trenchard Smith's classic television documentary on Grant Page (Mad Max, Road Games) and other Australian stunt performers
Hospitals Don't Burn Down, Trenchard-Smith's 1978 public information film told in pure Ozploitation fashion
Theatrical Trailer
Reversible sleeve featuring original and newly commissioned artwork by Chris Malbon
Brand new 2K restoration from original film materials
High Definition (1080p) Presentation
Optional English subtitles for the deaf and hard-of-hearing
Audio commentary by director Brian Trenchard-Smith
The Stuntmen, Trenchard Smith's classic television documentary on Grant Page (Mad Max, Road Games) and other Australian stunt performers
Hospitals Don't Burn Down, Trenchard-Smith's 1978 public information film told in pure Ozploitation fashion
Theatrical Trailer
Reversible sleeve featuring original and newly commissioned artwork by Chris Malbon
Brand new 2K restoration from original film materials
High Definition (1080p) Presentation
Optional English subtitles for the deaf and hard-of-hearing
Audio commentary by director Brian Trenchard-Smith
The Stuntmen, Trenchard Smith's classic television documentary on Grant Page (Mad Max, Road Games) and other Australian stunt performers
Hospitals Don't Burn Down, Trenchard-Smith's 1978 public information film told in pure Ozploitation fashion
Theatrical Trailer
Reversible sleeve featuring original and newly commissioned artwork by Chris Malbon
Brand new 2K restoration from original film materials
High Definition (1080p) Presentation
Optional English subtitles for the deaf and hard-of-hearing
Audio commentary by director Brian Trenchard-Smith
The Stuntmen, Trenchard Smith's classic television documentary on Grant Page (Mad Max, Road Games) and other Australian stunt performers
Hospitals Don't Burn Down, Trenchard-Smith's 1978 public information film told in pure Ozploitation fashion
Theatrical Trailer
Reversible sleeve featuring original and newly commissioned artwork by Chris Malbon
Brand new 2K restoration from original film materials
High Definition (1080p) Presentation
Optional English subtitles for the deaf and hard-of-hearing
Audio commentary by director Brian Trenchard-Smith
The Stuntmen, Trenchard Smith's classic television documentary on Grant Page (Mad Max, Road Games) and other Australian stunt performers
Hospitals Don't Burn Down, Trenchard-Smith's 1978 public information film told in pure Ozploitation fashion
Theatrical Trailer
Reversible sleeve featuring original and newly commissioned artwork by Chris Malbon
Brand new 2K restoration from original film materials
High Definition (1080p) Presentation
Optional English subtitles for the deaf and hard-of-hearing
Audio commentary by director Brian Trenchard-Smith
The Stuntmen, Trenchard Smith's classic television documentary on Grant Page (Mad Max, Road Games) and other Australian stunt performers
Hospitals Don't Burn Down, Trenchard-Smith's 1978 public information film told in pure Ozploitation fashion
Theatrical Trailer
Reversible sleeve featuring original and newly commissioned artwork by Chris Malbon
Brand new 2K restoration from original film materials
High Definition (1080p) Presentation
Optional English subtitles for the deaf and hard-of-hearing
Audio commentary by director Brian Trenchard-Smith
The Stuntmen, Trenchard Smith's classic television documentary on Grant Page (Mad Max, Road Games) and other Australian stunt performers
Hospitals Don't Burn Down, Trenchard-Smith's 1978 public information film told in pure Ozploitation fashion
Theatrical Trailer
Reversible sleeve featuring original and newly commissioned artwork by Chris Malbon
Brand new 2K restoration from original film materials
High Definition (1080p) Presentation
Optional English subtitles for the deaf and hard-of-hearing
Audio commentary by director Brian Trenchard-Smith
The Stuntmen, Trenchard Smith's classic television documentary on Grant Page (Mad Max, Road Games) and other Australian stunt performers
Hospitals Don't Burn Down, Trenchard-Smith's 1978 public information film told in pure Ozploitation fashion
Theatrical Trailer
Reversible sleeve featuring original and newly commissioned artwork by Chris Malbon
Press Quotes
a doozy of an Ozploitation piece packaged with crazy characters, bizarre situations and solid action. Arrow Video have done right by the picture, offering it up in beautiful shape with strong audio and a nice selection of supplements. Recommended.

—DVD Talk
a doozy of an Ozploitation piece packaged with crazy characters, bizarre situations and solid action. Arrow Video have done right by the picture, offering it up in beautiful shape with strong audio and a nice selection of supplements. Recommended.

—DVD Talk
The 1.85:1 1080p transfer for Microwave Massacre is - in a word - beautiful. The restoration work done for such a sleazy slice of cinema rivals what major studios do with their catalog titles - in fact, the big guys could learn a thing or two from Arrow's results.

—Dread Central
a doozy of an Ozploitation piece packaged with crazy characters, bizarre situations and solid action. Arrow Video have done right by the picture, offering it up in beautiful shape with strong audio and a nice selection of supplements. Recommended.

—DVD Talk
The 1.85:1 1080p transfer for Microwave Massacre is - in a word - beautiful. The restoration work done for such a sleazy slice of cinema rivals what major studios do with their catalog titles - in fact, the big guys could learn a thing or two from Arrow's results.

—Dread Central
Recommended

—Blu-ray.com
a doozy of an Ozploitation piece packaged with crazy characters, bizarre situations and solid action. Arrow Video have done right by the picture, offering it up in beautiful shape with strong audio and a nice selection of supplements. Recommended.

—DVD Talk
The 1.85:1 1080p transfer for Microwave Massacre is - in a word - beautiful. The restoration work done for such a sleazy slice of cinema rivals what major studios do with their catalog titles - in fact, the big guys could learn a thing or two from Arrow's results.

—Dread Central
Recommended

—Blu-ray.com
Oddly topical and filled with familiar 80s synth music, Dead-End Drive-In earns points for originality and some excellent action set pieces. Arrow Video's presentation of the movie is pretty stellar, and definitely the way to experience it, whether you're a fan or a newcomer.

—The Digital Bits
a doozy of an Ozploitation piece packaged with crazy characters, bizarre situations and solid action. Arrow Video have done right by the picture, offering it up in beautiful shape with strong audio and a nice selection of supplements. Recommended.

—DVD Talk
a doozy of an Ozploitation piece packaged with crazy characters, bizarre situations and solid action. Arrow Video have done right by the picture, offering it up in beautiful shape with strong audio and a nice selection of supplements. Recommended.

—DVD Talk
The 1.85:1 1080p transfer for Microwave Massacre is - in a word - beautiful. The restoration work done for such a sleazy slice of cinema rivals what major studios do with their catalog titles - in fact, the big guys could learn a thing or two from Arrow's results.

—Dread Central
a doozy of an Ozploitation piece packaged with crazy characters, bizarre situations and solid action. Arrow Video have done right by the picture, offering it up in beautiful shape with strong audio and a nice selection of supplements. Recommended.

—DVD Talk
The 1.85:1 1080p transfer for Microwave Massacre is - in a word - beautiful. The restoration work done for such a sleazy slice of cinema rivals what major studios do with their catalog titles - in fact, the big guys could learn a thing or two from Arrow's results.

—Dread Central
Recommended

—Blu-ray.com
a doozy of an Ozploitation piece packaged with crazy characters, bizarre situations and solid action. Arrow Video have done right by the picture, offering it up in beautiful shape with strong audio and a nice selection of supplements. Recommended.

—DVD Talk
The 1.85:1 1080p transfer for Microwave Massacre is - in a word - beautiful. The restoration work done for such a sleazy slice of cinema rivals what major studios do with their catalog titles - in fact, the big guys could learn a thing or two from Arrow's results.

—Dread Central
Recommended

—Blu-ray.com
Oddly topical and filled with familiar 80s synth music, Dead-End Drive-In earns points for originality and some excellent action set pieces. Arrow Video's presentation of the movie is pretty stellar, and definitely the way to experience it, whether you're a fan or a newcomer.

—The Digital Bits
There's a case for Cinema Paradiso as the quintessential movie about loving film, and it remains a strong one nearly a quarter-century after its release. I suspect in watching it you may just fall in love with the form all over again.

—Devin McGrath-Conwell, Geek Vibes Nation