Product Details
An MVD Exclusive
SKU: AV073
Format: Blu-Ray/DVD
UPC: 760137953784
Street Date: 12/13/16
PreBook Date: 10/25/16
Label: Arrow Video »
Genre: Cult
Run Time: 96 mins
Number of Discs: 2
Audio: STEREO
Year of Production: 1979
Region Code: 0
Box Lot: 30
Territory: US
Language: English
Cast & Crew
Actors:
Abel Ferrara
Carolyn Marz
Baybi Day
Director: Abel Ferrara
Product Assets
Driller Killer, The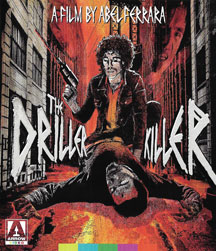 List Price: $39.95
Your Price: $39.95
In Stock: 85

You must login to place orders.



In career that has encompassed such controversial classics as Ms. 45, Bad Lieutenant and Welcome to New York, none of Abel Ferrara's films have quite managed to match the shock, extremity and downright notorious nature of The Driller Killer.

Ferrara plays struggling artist Reno, a man pushed to the edge by the economic realities of New York living in the late seventies and the No Wave band practising in the apartment below. His grip on reality soon begins to slip and he takes to stalking the streets with his power tool in search of prey...

Forget Taxi Driver, The Warriors and The New York Ripper, The Driller Killer is the definitive look at NYC's underbelly - a slasher that is as much at home in the arthouse as it is the grindhouse.
Media
Watch exclusive clip courtesy of RUE MORGUE »
Bonus Materials
Brand new restoration from original film elements
High Definition Blu-ray (1080p) and Standard Definition DVD presentations
Original uncompressed Mono PCM audio
Optional English subtitles for the deaf and hard of hearing
Audio commentary by director and star Abel Ferrara, moderated by Brad Stevens (author of Abel Ferrara: The Moral Vision) and recorded exclusively for this release
Brand new interview with Ferrara
Willing and Abel: Ferraraology 101, a new visual essay guide to the films and career of Ferrara by Alexandra Heller-Nicholas, author of Cultographies: Ms. 45
Mulberry St. (2010), Ferrara's feature-length documentary portrait of the New York location that has played a key role in his life and work, available on home video in the US for the first time ever
Trailer
Reversible sleeve featuring original and newly commissioned artwork by the Twins of Evil
FIRST PRESSING ONLY: Collector's booklet featuring new writing by Michael Pattison and Brad Stevens
Brand new restoration from original film elements
High Definition Blu-ray (1080p) and Standard Definition DVD presentations
Original uncompressed Mono PCM audio
Optional English subtitles for the deaf and hard of hearing
Audio commentary by director and star Abel Ferrara, moderated by Brad Stevens (author of Abel Ferrara: The Moral Vision) and recorded exclusively for this release
Brand new interview with Ferrara
Willing and Abel: Ferraraology 101, a new visual essay guide to the films and career of Ferrara by Alexandra Heller-Nicholas, author of Cultographies: Ms. 45
Mulberry St. (2010), Ferrara's feature-length documentary portrait of the New York location that has played a key role in his life and work, available on home video in the US for the first time ever
Trailer
Reversible sleeve featuring original and newly commissioned artwork by the Twins of Evil
FIRST PRESSING ONLY: Collector's booklet featuring new writing by Michael Pattison and Brad Stevens
Brand new 4K restoration from the original camera negative of the never-before-seen pre-release version and the theatrical cut
High Definition Blu-ray (1080p) and Standard Definition DVD presentations in both 1.85:1 and 1.37:1 aspect ratios
Original uncompressed Mono PCM audio
Audio commentary by director and star Abel Ferrara, moderated by Brad Stevens (author of Abel Ferrara: The Moral Vision) and recorded exclusively for this release
Laine and Abel: An Interview with the Driller Killer, a brand-new interview with Ferrara
Willing and Abel: Ferraraology 101, a new visual essay guide to the films and career of Ferrara by Alexandra Heller-Nicholas, author of Cultographies: Ms. 45
Mulberry St., Ferrara's feature-length 2010 documentary portrait of the New York location that has played a key role in his life and work, available on home video in the US for the first time ever
Trailer
Reversible sleeve featuring original and newly commissioned artwork by the Twins of Evil
FIRST PRESSING ONLY: Collector's booklet featuring new writing by Michael Pattison and Brad Stevens
Brand new 4K restoration from the original camera negative of the never-before-seen pre-release version and the theatrical cut
High Definition Blu-ray (1080p) and Standard Definition DVD presentations in both 1.85:1 and 1.37:1 aspect ratios
Original uncompressed Mono PCM audio
Audio commentary by director and star Abel Ferrara, moderated by Brad Stevens (author of Abel Ferrara: The Moral Vision) and recorded exclusively for this release
Laine and Abel: An Interview with the Driller Killer, a brand-new interview with Ferrara
Willing and Abel: Ferraraology 101, a new visual essay guide to the films and career of Ferrara by Alexandra Heller-Nicholas, author of Cultographies: Ms. 45
Mulberry St., Ferrara's feature-length 2010 documentary portrait of the New York location that has played a key role in his life and work, available on home video in the US for the first time ever
Trailer
Reversible sleeve featuring original and newly commissioned artwork by the Twins of Evil
FIRST PRESSING ONLY: Collector's booklet featuring new writing by Michael Pattison and Brad Stevens
Brand new 4K restoration from the original camera negative of the never-before-seen pre-release version and the theatrical cut
High Definition Blu-ray (1080p) and Standard Definition DVD presentations in both 1.85:1 and 1.37:1 aspect ratios
Original uncompressed Mono PCM audio
Audio commentary by director and star Abel Ferrara, moderated by Brad Stevens (author of Abel Ferrara: The Moral Vision) and recorded exclusively for this release
Laine and Abel: An Interview with the Driller Killer, a brand-new interview with Ferrara
Willing and Abel: Ferraraology 101, a new visual essay guide to the films and career of Ferrara by Alexandra Heller-Nicholas, author of Cultographies: Ms. 45
Mulberry St., Ferrara's feature-length 2010 documentary portrait of the New York location that has played a key role in his life and work, available on home video in the US for the first time ever
Trailer
Reversible sleeve featuring original and newly commissioned artwork by the Twins of Evil
FIRST PRESSING ONLY: Collector's booklet featuring new writing by Michael Pattison and Brad Stevens
Press Quotes
While retaining the movie's grungy vibe, Arrow's transfers give THE DRILLER KILLER a visual polish it has never had on home video before, with a rock-solid image and fine colors, pointing up the evocative and occasionally quite expressive lighting. With this restoration, the movie benefits from being viewed not only at top volume but also on big home screens, thanks to its truly impressive 4K restoration.

—Michael Gingold, Rue Morgue
While retaining the movie's grungy vibe, Arrow's transfers give THE DRILLER KILLER a visual polish it has never had on home video before, with a rock-solid image and fine colors, pointing up the evocative and occasionally quite expressive lighting. With this restoration, the movie benefits from being viewed not only at top volume but also on big home screens, thanks to its truly impressive 4K restoration.

—Michael Gingold, Rue Morgue
Arrow Video's presentation of the film is definitely the go-to choice for seeing it on home video and will likely remain so for years to come

—The Digital Bits