Product Details
An MVD Exclusive
SKU: MVD7494D
Format: DVD
UPC: 760137749493
Street Date: 12/11/15
PreBook Date: 11/06/15
Label: Mug-Shot Productions »
Genre: World
Run Time: 170 mins
Number of Discs: 1
Audio: STEREO
Year of Production: 1989
Region Code: 0
Box Lot: 30
Territory: WORLD
Language: English
Cast & Crew
Director: ROBERT MUGGE
Producer: ROBERT MUGGE
Director: ROBERT MUGGE
Producers: ROBERT MUGGE
Product Assets
Hawaiian Rainbow/Kumu Hula: Keepers Of A Culture
Robert Mugge's feature-length films on Hawaiian music and dance, both traditional and modern, released together at last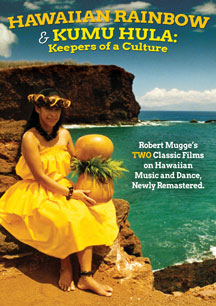 List Price: $19.95
Your Price: $19.95
In Stock: 21

You must login to place orders.



In the 1970s, Hawai'i began what is known as the Second Hawaiian Renaissance, a period of renewed interest in native Hawaiian history, language, crafts, music, dance, and spirituality. Out of that period of resurgence came enormous social, cultural, and political excitement and activity which, to a great extent, continues to this day. Inspired by what he encountered during his first visit to Hawai'i in 1986, filmmaker Robert Mugge joined forces with state politician Dr. Neil Abercrombie (later to become the U.S. Congressman from Honolulu and then Governor of the state), University of Hawai'i ethnomusicologists Dr. Ricardo D. Trimillos and Jay W. Junker, kumu hula and educator Vicky Holt Takamine, and Honolulu Academy of Arts film programmer Ann Brandman to produce an 85-minute documentary on Hawaiian music shot largely on the Island of O'ahu, and then, with the help of Cove Enterprises executives Roy Tokujo and Ronald Letterman, an 85 minute documentary on Hawaiian dance shot on all six of the primary Hawaiian Islands. In both cases, Dr. Abercrombie was able to convince his former colleagues in the state legislature to fund the films because of their educational and promotional value for the state. HAWAIIAN RAINBOW, a 1987 film about Hawaiian music, examines Hawai'i's traditional chants, percussion, ukulele, slack-key and steel guitar, male and female falsetto, and lush vocal harmonies, many of them accompanied by authentic Hawaiian dance styles. KUMU HULA: KEEPERS OF A CULTURE, a 1989 film about the art of the hula, explores Hawaiian dance traditions going back to 500AD when Polynesians first arrived in the islands. Those traditions have been passed along from generation to generation by kahuna (priests and sages) and kumu hula (master teachers). In this film, shot at exotic locations throughout the islands, Vicky Holt Takamine and other respected kumu hula reveal ancient traditions that have survived, flourished, and (where appropriate) evolved in spite of attempts by Nineteenth Century missionaries, plantation owners, and US Marines to repress Hawai'i's indigenous culture. Together, these two films present Hawaiian art and life as few outsiders have seen it: rich, expressive, colorful, and utterly unique. In 2015, both films were transferred to HD video from their original 16mm and stereo audio masters and lovingly restored.
Sales Points
Transferred to HD from the original 16mm film and lovingly restored
The definitive pair of films on traditional Hawaiian music and dance.
Press Quotes
Mugge...offers viewers a thoughtful, appealing examination of an ethnic music that remains virtually inaudible outside of its birthplace. Mugge's film, a concise cinematic primer on the music, likely will prove a useful tool for the continuing re-emergence of the genre.

—Philip Booth, Tampa Tribune
Mugge clearly felt some of the magic, and the mystery - the mana - that gives Hawaiian music its spine, and this rubs off on the viewers in little jolts.

—Burl Burlingame, Honolulu Star-Bulletin
This music, once popular throughout the U.S....celebrates Hawaii's lush lands and dazzling seas...under the spell of the occasional Hawaiian rainbow.

—Allen Young , Variety
HAWAIIAN RAINBOW is an honest film about Hawaii's musicians that should be seen by anyone who's ever worn an aloha shirt. A lively, informed oral history.

—Rick Carroll, Honolulu Advertiser
KUMU HULA: KEEPERS OF A CULTURE. It's a look at hula dancers that brings enormous dignity, beauty, and humor to a folk art that most of us think of as people wiggling around in grass skirts. Grade: A

—Ken Tucker, Entertainment Weekly
Watching these troupes perform, viewers will be completely caught up in the beauty of the dance and it's place in Hawaiian culture. An excellent production on all levels. Highly recommended.

—Vivienne L. Lipsitz, Video Rating Guide for Librarians
Mugge heightens the beauty of the dances with imaginative camera placement and with edits that complement the hula's beautiful rhythm, thereby capturing a feast for the eye, the ear, and the heart. As one master explains, the hula nobly embodies the forces of nature through the dancer's body, and KUMU HULA succeeds in an enchanting presentation of its proud tradition.

—Diane Carson, Riverfront Times (St. Louis)
KUMU HULA is a sensual treat...an aural and visual beauty filled with driving chants and songs and some of the most striking dances you're likely to see anywhere.

—Darrell Shoults, St. Louis Sun
Mugge's cutting is almost eerily in synch with a viewer's attention span as he goes back and forth. The film is compulsively watchable. Hypnotic. KUMU HULA looks fabulous. It sounds good as well. 4 stars (top rating)

—Burl Burlingame, Honolulu Star-Bulletin
The hows, the whys, the wherefores - explained, demonstrated, shared in as many ways and via as many means as there are flowers for leis. An enlightening and savvy documentary.

—Wayne Harada, Honolulu Advertiser