Product Details
An MVD Exclusive
Format: CD
SKU: JSP77209
UPC: 788065720926
Street Date: 01/19/18
PreBook Date: 12/15/17
Label: JSP RECORDS »
Genre: Blues
Run Time: 260 mins
Number of Discs: 4
Year of Production: 2017
Box Lot: 6
Territory: NORTH AMERICA
Language: English
Product Assets
I Ain't A Gamblin' Woman, I Got Such-a Rowdy Ways
Classic Women's Blues from the 1920's singing about Sex, the condition of life, and sex again...!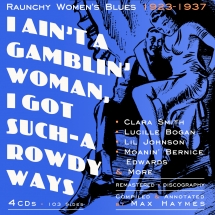 List Price: $28.99
Your Price: $28.99
In Stock: YES

Not purchasing for a business? See our consumer site.
Singers like Clara Smith, Lucille Bogan, Lil Johnson and Victoria Spivey were undoubtebly ladies-but not when they entered the recording studio. These are tough records with hard singing and lyrics that take double entendre to an art form-and when not double entendre-it's direct single entendre.... wonderful stuff that nobody would dare to record these days. Priceless!!
Track Listing
Disc 1:
Clara Smith - Every Woman's Blues
Clara Smith - Awful Moanin' Blues
Clara Smith - Waitin' For The Evenin' Mail
Clara Smith - I'm Gonna Tear Your Playhouse Down
Clara Smith - Cold Weather Blues
Clara Smith - Mean Papa Turn In Your Key
Clara Smith - Don't Advertise Your Man
Clara Smith - Back Woods Blues
Clara Smith - Done Sold My Soul To The Devil
Clara Smith - Nobody Knows The Way I Feel Dis Morning
Clara Smith - My Good-for-nuthin' Man
Clara Smith - Shipwrecked Blues
Clara Smith - Kitchen Mechanic Blues
Clara Smith - I'm Tired Of Being Good
- Alley Rat Blues
Clara Smith - Jelly Bean Blues
Clara Smith - Whip It To A Jelly
Clara Smith - Ease It
Clara Smith - Black Woman's Blues
Clara Smith - Jelly Look What You Done Done
Clara Smith - Steamboat Man Blues
Clara Smith - Daddy Don't Put That Thing On Me
Clara Smith - It's Tight Like That
Disc 2:


Lucille Bogan - Kind Stella Blues
Lucille Bogan - Jim Tampa Blues
Lucille Bogan - Women Won't Need No Men
Lucille Bogan - New Way Blues
Lucille Bogan - Pay Roll Blues
Lucille Bogan - My Georgia Grind
Lucille Bogan - Whisky Selling Blues
Lucille Bogan - They Ain't Walking No More
Lucille Bogan - Sloppy Drunk Blues
Lucille Bogan - Alley Boogie
Lucille Bogan - Crawlin' Lizard Blues
Lucille Bogan - Struttin' My Stuff
Lucille Bogan - Black Angel Blue
Lucille Bogan - Walking Blues
Lucille Bogan - Baking Powder Blues
Lucille Bogan - Groceries On The Shelf
Lucille Bogan - Hungry Man's Scuffle
Lucille Bogan - Mean Twister
Lucille Bogan - Pig Iron Sally
Lucille Bogan - I Hate That Train Called The M & O
Lucille Bogan - Sweet Man Sweet Man
Lucille Bogan - Barbecue Bess
Lucille Bogan - BD Woman Blues
Lucille Bogan - Stew Meat Blues
Lucille Bogan - Shave 'Em Dry (Sexually Explicit Version)
Disc 3:


Lil Johnson - Minor Blues
Lil Johnson - Never Let Your Left Hand Know What Your Right Hand Do
Lil Johnson - House Rent Scuffle
Lil Johnson - Anybody Want To Buy My Cabbage
Lil Johnson - New Shave 'Em Dry
Lil Johnson - Shake Man Blues
Lil Johnson - Bucket's Got A Hole In It
Lil Johnson - Keep On Knocking
Lil Johnson - I Lost My Baby
Lil Johnson - That Bonus Done Gone Thru - Take 1
Lil Johnson - Press My Button (Ring My Bell)
Lil Johnson - If You Can Dish It (I Can Take It)
Lil Johnson - You're Just A Cream Puff (You Can't Take It)
Lil Johnson - I'll Take You To The Cleaners - Take 1
Lil Johnson - Goofer Dust Swing
Lil Johnson - My Stove's In Good Condition
Lil Johnson - Meat Balls
Lil Johnson - Get 'Em From The Peanut Man
Lil Johnson - Sam - The Hot Dog Man
Lil Johnson - Hottest Gal In Town
Lil Johnson - You Stole My Cherry
Lil Johnson - Take Your Hand Off It
Lil Johnson - My Baby Squeeze Me Again - Take 1
Lil Johnson - Come And Get It
Lil Johnson - Down At The Old Village Store
Disc 4:


Moaning Bernice Edwards - Sunshine Blues
Moaning Bernice Edwards - Lonesome Longing Blues
Moaning Bernice Edwards - Mean Man Blues
Moaning Bernice Edwards - Long Tall Mama
Moaning Bernice Edwards - Moaning Blues
Moaning Bernice Edwards - Southbound Blues
Moaning Bernice Edwards - Hard Hustling Blues
Moaning Bernice Edwards - High Powered Mama
Moaning Bernice Edwards - Low Down Dirty Shame Blues
Moaning Bernice Edwards - Born To Die Blues
Moaning Bernice Edwards - Two-way Mind Blues
Moaning Bernice Edwards - Jack Of All Trades
Moaning Bernice Edwards - Bantam Rooster Blues
Moaning Bernice Edwards - Butcher Shop Blues
Hociel Thomas - Worried Down With The Blues
Hociel Thomas - Fish Tail Dance
Sippie Wallace - Murder's Gonna Be My Crime
Sippie Wallace - A Man For Every Day Of The Week
Sippie Wallace - You Gonna Need My Help
Sippie Wallace - I'm A Mighty Tight Woman
Bessie Tucker - Fort Worth And Denver Blues
Bessie Tucker - Penitentiary
Bessie Tucker - Bessie's Moan
Bessie Tucker - The Dummy
Bessie Tucker - Key To The Bushes
Victoria Spivey - Blood Hound Blues