Product Details
An MVD Exclusive
Format: DVD
SKU: INV060
UPC: 760137209591
Street Date: 08/13/19
PreBook Date: 07/09/19
Label: Invincible »
Genre: Animation (not Anime/Manga)
Run Time: 999 mins
Number of Discs: 6
Audio: STEREO
Year of Production: 1993
Region Code: 0
Box Lot: 30
Territory: WORLD
Language: English
Cast & Crew
Actors:
Jaleel White
Christopher Stephen Welch
Long John Baldry
Phil Hayes
Garry Chalk
Ian James Corlett
Kathleen Barr
Michael Benyaer
Jim Byrnes
Babz Chula
Jennifer Copping
Michael Donovan
Kyle Fairlie
Terry Klassen
Wally Marsh
Scott McNeil
Shane
Director: Kent Butterworth
Producer: Allen Bohbot
Producer: Kent Butterworth
Producer: Andy Heyward
Producer: Robby London
Producer: Kent W. Meredith
Director: Kent Butterworth
Producers: Allen Bohbot, Kent Butterworth, Andy Heyward, Robby London, Kent W. Meredith
Product Assets
Adventures Of Sonic The Hedgehog
You know? I sure have fun.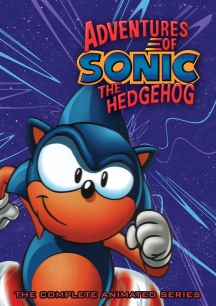 List Price: $39.95
Your Price: $39.95
In Stock: 262

You must login to place orders.



Based on the popular video game franchise published by SEGA... Sonic the Hedgehog is on the run with his faithful sidekick Tails and together they're racing to outpace the despicable Dr. Robotnik, foiling his plans to "robotize" and enslave the population of Planet Mobius. Sonic and friends always save the day. It's quick wit at supersonic speed in a fight for freedom and family fun!


Media
Track Listing
Disc 1:
- "Super Special Sonic Search and Smash Squad"
- "Subterranean Sonic"
- "Lovesick Sonic"
- "Slow Going"
- "High-Stakes Sonic"
- "Sonic Breakout"
- "Trail of the Missing Tails"
- "Close Encounters of the Sonic Kind"
- "Momma Robotnik's Birthday"
- "Big Daddy"
- "Sonic's Song"
- "Birth of A Salesmen"
- "Best Hedgehog"
Disc 2:


- "The Robotnik Express"
- "Too Tall Tails"
- "Tail's New Home"
- "Over The Hill hero"
- "Blank-Headed Eagle"
- "Mystery of the Missing Hi-Tops"
- "So Long Sucker"
- "Momma Robotnik Returns"
- "Pseudo Sonic"
- "Grounder the Genius"
- "Tails in Charge"
- "Sno Problems"
- "Submerged Sonic"
Disc 3:


- "Boogey-Mania"
- "Musta Been a Beautiful Baby"
- "Robotnik, Jr."
- "Full Tilt Tails"
- "Mac Hopper"
- "Sonic Gets Thrashed"
- "Spaceman Sonic"
- "Mad Mike Da Bear Warrior"
- "The Last Resort"
- "Robotnik's Rival"
- "The Magic Hassle"
- "Sonic the Matchmaker"
- "Tails Prevails"
Disc 4:


- "Zoobotnik"
- "Attack on Pinball Fortress"
- "Mass Transit Trouble"
- "Coachnik"
- "Untouchable Sonic"
- "Super Robotnik"
- "Robolympics"
- "Magnificent Sonic"
- "Blackbot the Pirate"
- "Hedgehog of the 'Hound' Table"
- "Robotnik's Pyramid Scheme"
- "Prehistoric Sonic"
- "Babysitter Jitters"
Disc 5:


- "Honey I Shrunk the Hedgehog"
- "Robotnikland"
- "The Mobius 5000"
- "The Little Merhog"
- "Road Hog"
- "The Robot's Robot"
- "Tail's Tale"
- "Hero of the Year"
- "Fast & Easy"
- "Lifestyles of the Sick and Twisted"
- "Sonic is Running"
- "Robo-Ninjas"
- "Sonically Ever After"
- Hound Table
Sales Points
Smash hit animated TV series from the 1990's returns to DVD by popular demand with a 6-Disc set featuring all 65 episodes!
PERFECT drafting opportunity for the "Sonic The Hedgehog" national theatrical live action movie starring Jim Carrey and James Mardsen coming Fall 2019! This title will be available during the film's entire marketing campaign!
Featuring fan favorite Jaleel White ("Family Matters") as the voice of 'Sonic the Hedgehog'!
The Adventures of Sonic The Hedgehog currently holds a 8.3 out of 10 rating on TV.com.
89% of Google users that rated this series "liked" this hit 90's TV Series!