Product Details
An MVD Exclusive
Format: CD
SKU: LMIC077
UPC: 4751025440468
Street Date: 01/17/20
PreBook Date: 12/13/19
Label: Skani »
Genre: Classical
Number of Discs: 2
Year of Production: 2019
Box Lot: 25
Territory: US,CA
Language: English
Product Assets
Latvian Radio Choir - Janis Zalits: Complete Choral Songs
Complete choral music by Latvian composer Janis Zalits (1884-1943)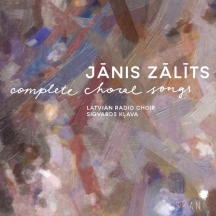 List Price: $22.99
Your Price: $22.99
In Stock: 20

You must login to place orders.



In 1913 Jazeps Vitols, the forefather of Latvian classical music, wrote: ''In Janis Zalits' songs, the effort to use all means of modern harmony culminates in undeniable success. They capture the audience with their freshness, unobtrusive illustration and vibrant colour. Janis Zalits is the freshest and most mischievous among our composers, and not only among the younger generation.''
Janis Zalits, a courageous innovator, strived for a breath of the contemporary in music, and this challenged many of his contemporaries to re-examine ingrained opinions and often also choir singers and conductors to radically step out of their comfort zones. In fascination with the new sounds of French impressionism, he has produced perhaps only a capella choral compositions that truly utilize the complexity of harmony and form of this style.
''My songs have one big fault: they are only any good when performed very well; otherwise they're worthless. And it is said that even quite capable musicians have a hard time getting a feel for them,'' contemplated Janis Zalits.
Perhaps this is the reason we can only appreciate these works today, sung by one of the world's leading choirs - Latvian Radio Choir.
Track Listing
Disc 1:
Anuzu Himna
Hymn Of Anuzi
Apsveikums Jubilaram
Birthday Greeting
Adolfam Kaktinam
For Adolfs Kaktins
Bikeris Mironu Sala
The Goblet On The Isle Of The Dead
Birztalina
Birch Grove
Cels Uz Dzimteni
The Way To My Homeland
Cildinam Sodien Varenos Garus
Today We Praise The Mighty Souls
Darbadaina
Work Song
Dargas Enas
Cherished Souls
Dziesma Tautas Vienotajam
A Song For Him Who Unified The People
Jau No Bernu Dienam
From Early Childhood
Kad Nakts
At Night
Ka Osi Salc
The Rustling Ash Trees
Ka Sniegi Kalnu Galotnes
Like Snow On Mountain-Tops
Lai Zemei Sapes Nav
May The Earth Feel No Pain
Lieldienu Dziesma
Easter Song
Ligo
Midsummer
Ligo Virkne
Midsummer Songs
Pie Kokletaja Kapa
By The Bard's Grave
Preses Himna
Press Anthem
Profesoram J. Vitolam
To Professor J. Vitols
Pusat Taures!
Blow Your Horns!
Rainim Un Aspazijai
For Rainis And Aspazija
Disc 2:


Sirds Tik Gruta
The Heart Is So Heavy (1915 Edition)
The Heart Is So Heavy (1917 Edition)
Tautas Himna Vadonim
People's Song For The Leader
Ta Vesma
The Divine Spirit
Tev Sie Lauki
These Are Your Fields
Tevi Sveicam
We Greet You
Vadona Suminajums
Praise The Leader
Varonu Dziesma
Heroes' Song
Vasara
Summer
Vasaras Nakts
Summer Night
Vienibas Dziesma
Song For The Unit
Karseju, Verpeju Un Audeju Dziesma
Song Of The Carders, Spinners And Weavers
Kareivji Drosie
Brave Soldiers
Kareivju Dziesma
Soldiers' Song
Katordznieku Dziesma
Convicts' Song
Karlim Skalbem
For Karlis Skalbe
Pusat, Veji!
Blow, Winds!
Rita Sveiciens
Morning Greeting
Varona Sirds
A Hero's Heart
Sveiks, Vadon, Sveiks!
Leader, We Salute You!