Product Details
An MVD Exclusive
SKU: MVD7498BR
Format: Blu-ray
UPC: 760137749899
Street Date: 07/22/16
PreBook Date: 06/17/16
Label: Mug-Shot Productions »
Genre: Latin
Run Time: 82 mins
Number of Discs: 1
Audio: STEREO
Year of Production: 1985
Region Code: 0
Box Lot: 30
Territory: WORLD
Language: English
Cast & Crew
Actors:
Ruben Blades
Linda Ronstadt
Pete Hamill
Director: ROBERT MUGGE
Producer: ROBERT MUGGE
Director: ROBERT MUGGE
Producers: ROBERT MUGGE
Product Assets
Ruben Blades - The Return Of Ruben Blades
Robert Mugge's portrait of actor, writer, attorney, activist, and Grammy Award winning world music artist Ruben Blades.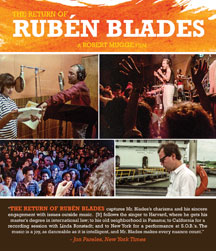 List Price: $19.95
Your Price: $19.95
In Stock: 581

You must login to place orders.



"Robert Mugge is a filmmaker with a music critic's sensibility. His good taste in subjects is matched by the subtle way in which he lets his movies reveal all the music that fits. The result is filmmaking that informs and entertains, and in the age of overblown music videos and the blatantly artful hard sell of music, Mugge's movies are a relief to watch. For salsa fans, THE RETURN OF RUBEN BLADES is a must-see. Politicos looking for a credible and humane view on the fire down below our borders, and people interested in the evolving dynamics of pop culture will likewise find engaging ideas and insights in Mugge's most recent effort...a refreshing portrait of an artist with a demonstrative grace and an irresistible beat. Listening to Blades discuss his work and then seeing him perform it onstage with his band is a lesson in humility, courage and musicianship. He's an immensely likeable person...a movie natural. What finally emerges in THE RETURN OF RUBEN BLADES is not really a platform for political insight or a profile of the heir apparent to the Latin music traditions of Machito, Tito Puente, and Ray Barretto. The film certainly is ripe with both, but there's a larger, more passionate statement to be made. Mugge's affectionate and smart movie is a vision shared by two soulmates who believe the world can be discovered and better understood through music." - Martin Keller, TWIN CITIES READER (Minneapolis/St. Paul) Transferred to HD from the original 16mm film and lovingly restored.
Media
Track Listing
BUSCANDO AMERICA
PEDRO NAVAJA
TIBURON
SILENCIOS

MUEVETE
TODOS VUELVEN
MACK THE KNIFE
Sales Points
Transferred to HD from the original 16mm film and lovingly restored
Blades plays the recurring role of Daniel Salazar in the AMC post-apocalyptic drama Fear the Walking Dead
In 2015, Blades' album Tangos won a Grammy award for 'Best Latin Pop Album.'
In June 2011, Blades was honored with an Harry Chapin Humanitarian Award, presented by ASCAP and charity partner WhyHunger, for his selfless charitable work world-wide.
Blades plays the recurring role of Daniel Salazar in the AMC post-apocalyptic drama Fear the Walking Dead
Transferred to HD from the original 16mm film and lovingly restored
Blades plays the recurring role of Daniel Salazar in the AMC post-apocalyptic drama Fear the Walking Dead
In 2015, Blades' album Tangos won a Grammy award for 'Best Latin Pop Album.'
In June 2011, Blades was honored with an Harry Chapin Humanitarian Award, presented by ASCAP and charity partner WhyHunger, for his selfless charitable work world-wide.
Transferred to HD from the original 16mm film and lovingly restored
In June 2011, Blades was honored with an Harry Chapin Humanitarian Award, presented by ASCAP and charity partner WhyHunger, for his selfless charitable work world-wide.
In 2015, Blades' album Tangos won a Grammy award for 'Best Latin Pop Album.'
Press Quotes
If music - specifically salsa music - is the soul of Robert Mugge's documentary, THE RETURN OF RUBEN BLADES, then singer-songwriter Ruben Blades himself provides this film's considerable heart and mind. Like Blades himself, the film exudes a sincerity and a relaxed charm that is hard to resist. If the point of a so-called concert film is to provide insight into an artist and his work, then THE RETURN OF RUBEN BLADES is a major success. 3 1/2 stars out of 4.

—James Verniere, Boston Herald
THE RETURN OF RUBEN BLADES captures Mr. Blades's charisma and his sincere engagement with issues outside music.

—Jon Pareles, The New York Times
A full and rich portrait of Blades emerges from Robert Mugge's superb biographical documentary.

—Harper Barnes, St. Louis Post-Dispatch
THE RETURN OF RUBEN BLADES is an elliptical essay on politics and culture...a lovely and leisurely impressionistic documentary...somewhere above and beyond the realm of ordinary documentary journalism.

—Noel Weyrich, City Paper (Philadelphia)
THE RETURN OF RUBEN BLADES is a delightful, upbeat documentary. The result leaves one both charmed and uplifted.

—Susan Waugh, Riverfront Times (St. Louis)
If music - specifically salsa music - is the soul of Robert Mugge's documentary, THE RETURN OF RUBEN BLADES, then singer-songwriter Ruben Blades himself provides this film's considerable heart and mind. Like Blades himself, the film exudes a sincerity and a relaxed charm that is hard to resist. If the point of a so-called concert film is to provide insight into an artist and his work, then THE RETURN OF RUBEN BLADES is a major success. 3 1/2 stars out of 4.

—James Verniere, Boston Herald
THE RETURN OF RUBEN BLADES captures Mr. Blades's charisma and his sincere engagement with issues outside music.

—Jon Pareles, The New York Times
A full and rich portrait of Blades emerges from Robert Mugge's superb biographical documentary.

—Harper Barnes, St. Louis Post-Dispatch
THE RETURN OF RUBEN BLADES is an elliptical essay on politics and culture...a lovely and leisurely impressionistic documentary...somewhere above and beyond the realm of ordinary documentary journalism.

—Noel Weyrich, City Paper (Philadelphia)
THE RETURN OF RUBEN BLADES is a delightful, upbeat documentary. The result leaves one both charmed and uplifted.

—Susan Waugh, Riverfront Times (St. Louis)
If music - specifically salsa music - is the soul of Robert Mugge's documentary, THE RETURN OF RUBEN BLADES, then singer-songwriter Ruben Blades himself provides this film's considerable heart and mind. Like Blades himself, the film exudes a sincerity and a relaxed charm that is hard to resist. If the point of a so-called concert film is to provide insight into an artist and his work, then THE RETURN OF RUBEN BLADES is a major success. 3 1/2 stars out of 4.

—James Verniere, Boston Herald
THE RETURN OF RUBEN BLADES captures Mr. Blades's charisma and his sincere engagement with issues outside music.

—Jon Pareles, The New York Times
A full and rich portrait of Blades emerges from Robert Mugge's superb biographical documentary.

—Harper Barnes, St. Louis Post-Dispatch
THE RETURN OF RUBEN BLADES is an elliptical essay on politics and culture...a lovely and leisurely impressionistic documentary...somewhere above and beyond the realm of ordinary documentary journalism.

—Noel Weyrich, City Paper (Philadelphia)
THE RETURN OF RUBEN BLADES is a delightful, upbeat documentary. The result leaves one both charmed and uplifted.

—Susan Waugh, Riverfront Times (St. Louis)