Product Details
An MVD Exclusive
Format: DVD
SKU: MVD8479D
UPC: 760137847991
Street Date: 01/13/17
PreBook Date: 11/04/16
Label: MVD Visual »
Genre: Alternative/Punk
Run Time: 95 mins
Number of Discs: 1
Audio: 5.1 SURROUND
Year of Production: 2016
Region Code: 0
Box Lot: 30
Territory: WORLD EXC JAPAN
Language: English
Cast & Crew
Director: DANNY GARCIA
Producer: DANNY GARCIA
Producer: CESAR MENDEZ
Producer: VANESSA D'AMELIO
Producer: HILARY HODGSON
Producer: SKAFISH
Director: DANNY GARCIA
Producers: DANNY GARCIA, CESAR MENDEZ, VANESSA D'AMELIO, HILARY HODGSON, SKAFISH
Product Assets
Sad Vacation: The Last Days Of Sid And Nancy
Sad Vacation is a new documentary on the lives and deaths of Sid Vicious and Nancy Spungen.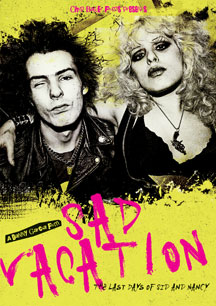 List Price: $19.95
Your Price: $19.95
In Stock: 561

You must login to place orders.



Sad Vacation is an up close and personal account of the tumultuous and stormy relationship between Sid Vicious and Nancy Spungen and how it ended in Room 100 of the Chelsea Hotel. Directed by Danny Garcia (The Rise and Fall of The Clash, Looking for Johnny), this films pulls no punches and reveals the facts through personal friends, insiders and witnesses. Includes interviews with Sylvain Sylvain (New York Dolls), Bob Gruen, Walter Lure (The Heatbreakers), Leee Black Childers, Howie Pyro (D Generation), Kenny Gordon (Pure Hell), Cynthia Ross (The B- Girls) and many more.
Media
Watch exclusive clip courtesy of AV CLUB »
Watch exclusive clip courtesy of THE PLAYLIST »
Bonus Materials
Trailers, bonus interviews
Trailers, bonus interviews
Trailers, bonus interviews
Trailers, bonus interviews
Trailers, bonus interviews
Trailers, bonus interviews
Trailers, bonus interviews
Trailers, bonus interviews
Trailers, bonus interviews
Sales Points
Doc'n Roll Fest premiere screening in London and a string of screenings in the UK and Ireland
Limited US theatrical run including New York, LA, San Francisco, Philadelphia and more
For fans of Sex Pistols, Punk Rock, Sid Vicious, Nancy Spungen
Includes Free poster
Doc'n Roll Fest premiere screening in London and a string of screenings in the UK and Ireland
Limited US theatrical run including New York, LA, San Francisco, Philadelphia and more
Includes Free poster
For fans of Sex Pistols, Punk Rock, Sid Vicious, Nancy Spungen
Doc'n Roll Fest premiere screening in London and a string of screenings in the UK and Ireland
Limited US theatrical run including New York, LA, San Francisco, Philadelphia and more
For fans of Sex Pistols, Punk Rock, Sid Vicious, Nancy Spungen
Includes Free poster
Doc'n Roll Fest premiere screening in London and a string of screenings in the UK and Ireland
Limited US theatrical run including New York, LA, San Francisco, Philadelphia and more
For fans of Sex Pistols, Punk Rock, Sid Vicious, Nancy Spungen
Includes Free poster
Doc'n Roll Fest premiere screening in London and a string of screenings in the UK and Ireland
Limited US theatrical run including New York, LA, San Francisco, Philadelphia and more
Includes Free poster
For fans of Sex Pistols, Punk Rock, Sid Vicious, Nancy Spungen
Doc'n Roll Fest premiere screening in London and a string of screenings in the UK and Ireland
Limited US theatrical run including New York, LA, San Francisco, Philadelphia and more
For fans of Sex Pistols, Punk Rock, Sid Vicious, Nancy Spungen
Includes Free poster
Doc'n Roll Fest premiere screening in London and a string of screenings in the UK and Ireland
Limited US theatrical run including New York, LA, San Francisco, Philadelphia and more
For fans of Sex Pistols, Punk Rock, Sid Vicious, Nancy Spungen
Includes Free poster
For fans of Sex Pistols, Punk Rock, Sid Vicious, Nancy Spungen
Limited US theatrical run including New York, LA, San Francisco, Philadelphia and more
Doc'n Roll Fest premiere screening in London and a string of screenings in the UK and Ireland
Includes Free poster
For fans of Sex Pistols, Punk Rock, Sid Vicious, Nancy Spungen
Limited US theatrical run including New York, LA, San Francisco, Philadelphia and more
Doc'n Roll Fest premiere screening in London and a string of screenings in the UK and Ireland
Includes Free poster
Press Quotes
An engaging insiders' look at '70s New York, in all its high-and-low, center-of-the-cultural-universe glory.

—The Hollywood Reporter
An engaging insiders' look at '70s New York, in all its high-and-low, center-of-the-cultural-universe glory.

—The Hollywood Reporter
An engaging insiders' look at '70s New York, in all its high-and-low, center-of-the-cultural-universe glory.

—The Hollywood Reporter
Thorough and unapologetic... Garcia's research and interviews does as much as it can to illuminate one of rock and roll's great mysteries.

—New Noise
An engaging insiders' look at '70s New York, in all its high-and-low, center-of-the-cultural-universe glory.

—The Hollywood Reporter
Thorough and unapologetic... Garcia's research and interviews does as much as it can to illuminate one of rock and roll's great mysteries.

—New Noise
Garcia's film provides a comprehensive introduction to the chaotic culture, assaultive music, and grotty anarchy of the original punk scene in New York and London in the '70s.

—The Boston Globe
An engaging insiders' look at '70s New York, in all its high-and-low, center-of-the-cultural-universe glory.

—The Hollywood Reporter
Thorough and unapologetic... Garcia's research and interviews does as much as it can to illuminate one of rock and roll's great mysteries.

—New Noise
Garcia's film provides a comprehensive introduction to the chaotic culture, assaultive music, and grotty anarchy of the original punk scene in New York and London in the '70s.

—Boston Globe
An engaging insiders' look at '70s New York, in all its high-and-low, center-of-the-cultural-universe glory.

—The Hollywood Reporter
Thorough and unapologetic... Garcia's research and interviews does as much as it can to illuminate one of rock and roll's great mysteries.

—New Noise
Garcia's film provides a comprehensive introduction to the chaotic culture, assaultive music, and grotty anarchy of the original punk scene in New York and London in the '70s.

—Boston Globe
An engaging insiders' look at '70s New York, in all its high-and-low, center-of-the-cultural-universe glory.

—The Hollywood Reporter
Thorough and unapologetic... Garcia's research and interviews does as much as it can to illuminate one of rock and roll's great mysteries.

—New Noise
Garcia's film provides a comprehensive introduction to the chaotic culture, assaultive music, and grotty anarchy of the original punk scene in New York and London in the '70s.

—Boston Globe
An engaging insiders' look at '70s New York, in all its high-and-low, center-of-the-cultural-universe glory.

—The Hollywood Reporter
Thorough and unapologetic... Garcia's research and interviews does as much as it can to illuminate one of rock and roll's great mysteries.

—New Noise
Garcia's film provides a comprehensive introduction to the chaotic culture, assaultive music, and grotty anarchy of the original punk scene in New York and London in the '70s.

—Boston Globe
A fantastic, shaggy documentary... Garcia collects the usual suspects for great, trenchant opinions and stories, assembling everything in a hybrid music/crime documentary... Recommended

—DVD Talk