Product Details
An MVD Exclusive
Format: CD
SKU: BMCCD262
UPC: 5998309302626
Street Date: 08/10/18
PreBook Date: 07/06/18
Label: BMC Records »
Genre: Classical
Run Time: 140:41 mins
Number of Discs: 2
Year of Production: 2018
Box Lot: 25
Territory: NORTH AMERICA
Language: English
Product Assets
Sandor Vegh - Vegh: The Chamber Musician
The 4th double disc of BMC's exclusive Vegh series contains previously unreleased recordings by Sandor Vegh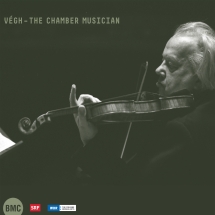 List Price: $19.99
Your Price: $19.99
In Stock: YES

Not purchasing for a business? See our consumer site.
Violinist, chamber musician, conductor and teacher, Sándor Végh was one of the most important musicians of the twentieth century. He left Hungary in 1946, to live in France, then later Switzerland and Germany, and in the final decades of his life he made his home in Salzburg in Austria. Végh played with the finest musicians of the century. He performed as a chamber partner to Ernő Dohnányi, Annie Fischer, Mieczysław Horszowski, Wilhelm Kempff, Rudolf Serkin and Yehudi Menuhin. For many years he played with Pablo Casals at the legendary cellist's Prades Festival. His legendary Végh Quartet played together for nigh on forty years, all the while being at the cutting edge of the music world.
Right from his early student years, Sándor Végh showed great interest in contemporary music, and this attraction, curiosity, and commitment lasted all through his life. In the selection of the pieces an important aim was that the choice should reflect the simultaneous presence of traditions and modernity in Vegh's art. With this in mind, this 4th double disc of BMC's exclusive Vegh series features the Beethoven C major 'Razumovsky' Quartet, with which the Vegh Quartet won the Geneva Music Competition, the great Viennese composer's Violin Sonata No. 10 in G major and Schubert's String Quintet in C major, along with Arnold Schoenberg's Pierrot lunaire, a defining piece of the 20th century, performed by members of the Vegh Quartet and selected musicians.
Track Listing
Disc 1:
Violin Sonata No. 10 in G major, Op. 96 - I. Allegro moderato
Violin Sonata No. 10 in G major, Op. 96 - II. Adagio espressivo
Violin Sonata No. 10 in G major, Op. 96 - III. Scherzo, Allegro - Trio
Violin Sonata No. 10 in G major, Op. 96 - IV. Poco Allegretto - Adagio espressivo - Allegro
Pierrot Lunaire, Op. 21 - Part I. No. 1. Moondrunk
Pierrot Lunaire, Op. 21 - Part I. No. 2. Colombine
Pierrot Lunaire, Op. 21 - Part I. No. 3. The Dandy
Pierrot Lunaire, Op. 21 - Part I. No. 4. A Chlorotic Laundry Maid
Pierrot Lunaire, Op. 21 - Part I. No. 5. Valse de Chopin
Pierrot Lunaire, Op. 21 - Part I. No. 6. Madonna
Pierrot Lunaire, Op. 21 - Part I. No. 7. The Ailing Moon
Pierrot Lunaire, Op. 21 - Part II. No. 8. Night
Pierrot Lunaire, Op. 21 - Part II. No. 9. Prayer to Pierrot
Pierrot Lunaire, Op. 21 - Part II. No. 10. Loot
Pierrot Lunaire, Op. 21 - Part II. No. 11. Red Mass
Pierrot Lunaire, Op. 21 - Part II. No. 12. Song of the Gallows
Pierrot Lunaire, Op. 21 - Part II. No. 13. Decapitation
Pierrot Lunaire, Op. 21 - Part II. No. 14. The Crosses
Pierrot Lunaire, Op. 21 - Part III. No. 15. Nostalgia
Pierrot Lunaire, Op. 21 - Part III. No. 16. Vulgarity
Pierrot Lunaire, Op. 21 - Part III. No. 17. Parody
Pierrot Lunaire, Op. 21 - Part III. No. 18. The Moonfleck
Pierrot Lunaire, Op. 21 - Part III. No. 19. Serenade
Pierrot Lunaire, Op. 21 - Part III. No. 20. Journey Home
Pierrot Lunaire, Op. 21 - Part III. No. 21. Ancient Scent
Disc 2:


String Quartet No. 9 n C major, Op. 59 No. 3 - I. Introduzione. Andante con moto - Allegro vivace
String Quartet No. 9 n C major, Op. 59 No. 3 - II. Andante con moto quasi Allegretto
String Quartet No. 9 n C major, Op. 59 No. 3 - III. Menuetto. Grazioso - Trio
String Quartet No. 9 n C major, Op. 59 No. 3 - IV. Allegro molto
String Quintet in C major, D. 956 - I. Allegro ma non troppo
String Quintet in C major, D. 956 - II. Adagio
String Quintet in C major, D. 956 - III. Scherzo. Presto - Trio. Andante sostenuto
String Quintet in C major, D. 956 - IV. Allegretto