Product Details
An MVD Exclusive
SKU: AV424
Format: Blu-ray
UPC: 760137828884
Street Date: 01/25/22
PreBook Date: 12/21/21
Label: Arrow Video »
Genre: Horror
Run Time: 102 mins
Number of Discs: 1
Audio: STEREO
Year of Production: 2020
Region Code: 0
Box Lot:
Territory: US
Language: German
Cast & Crew
Actors:
Sandra Hüller
August Schmölzer
Gro Swantje Kohlhof
Marion Kracht
Agata Buzek
Max Hubacher
Benjamin Heinrich
Director: Michael Venus
Product Assets
Sleep [Limited Edition]
Who protects you when you dream?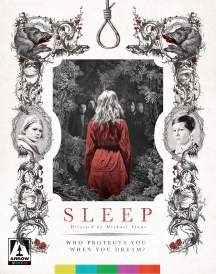 List Price: $39.95
Your Price: $39.95
In Stock: 431

You must login to place orders.



Nightmare and trauma. Fear and repression. Guilt and atonement. Weaving together the emotional violence of horror with the cryptic motifs of German folk and fairy tales, Arrow Video is proud to present Sleep, the debut feature from a major new talent in world cinema. Tormented by recurring nightmares of a place she has never been, Marlene (Sandra Hüller, Requiem) cannot help but investigate when she discovers the place is real. Once there, she suffers a breakdown and is admitted to a psychiatric ward. Determined to discover what happened to her, Mona (Gro Swantje Kohlhof), her daughter, follows and finds herself in Stainbach, an idyllic village with a dark history. What is it that so tormented her mother, and the people of Stainbach? What is the source of the nightmares she suffers? And who is the mysterious Trude that lives in the forest? Richly conceived and confidently told, director Michael Venus draws influence from Mario Bava, David Lynch, Franz Kafka and the Brothers Grimm, but his voice is uniquely his own. As invested in substance and story as he is in style, Venus claws his way down to the roots of what haunts a people, a community, a nation and comes up screaming. "Will definitely keep you up at night" - Joey Keough, Wicked Horror
Media
Bonus Materials
High Definition Blu-ray (1080p) presentation
Original DTS-MA 5.1 audio
Optional English subtitles
Audio commentary by film critic and historian Kim Newman & author Sean Hogan
A Strange Dark Magic, a visual essay by film scholar Alexandra Heller-Nicholas
Sleepwalking through National Trauma, a visual essay by film critic Anton Bitel
Dream & Folktale in Sleep, an interview with anthropologist, dream researcher, and filmmaker Louise S. Milne
Talking in their Sleep, director Michael Venus and star Gro Swantje Kohlhof in conversation
A Dream We Dream Together, a compilation of film festival introductions created during lockdown by director Michael Venus and the cast of Sleep
Making Dreams Come True, a glimpse behind the scenes of Sleep
Deleted Scenes
Marlene's Sketches, explore the many obsessive dream journal sketches that are only glimpsed in the film, created by artist Christoph Vieweg, presented here in full
Trailer
Image gallery
Reversible sleeve featuring original and newly commissioned artwork by Oink Creative
Illustrated collector's booklet featuring new writing by Alison Peirse, an interview with director Michael Venus, and Brothers Grimm fairy tale 'Frau Trude'
Double-sided fold-out poster featuring newly commissioned artwork by Oink Creative
Sales Points
For fans of Stephen King and David Lynch
Nominated for 8 International Awards, including Best Film, Best Director, and Best Screenplay
94% Tomatometer - Certified Fresh on Rotten Tomatoes
Press Quotes
An extraordinary political horror thriller!

—Radio Eins
Delves into folk horror and the demons of Germany's past to create a starkly original art-house film

—Rob Aldam, Backseat Mafia
SLEEP is a stunning tale of inherited trauma manifesting as nightmares and the work one has to do to conquer what cannot be physically escaped

—Lindsay Traves, CGMagazine
SLEEP is a delirious and delicious supernatural mystery with a creepy patriarchal cult wrapper. I enjoyed every frame, and loved seeing how the whole thing unraveled.

—Amie Simon, I Love Splatter
Sleep is most definitely a good, solid watch

—Anne Carlini, Exclusive Magazine
Michael Venus' feature debut, Sleep (2021), although it becomes almost Lynchian in its obtuse imagery, is, at its heart, a mystery; one that uncovers personal, family and generational secrets. And it's that narrative drive that makes it so compelling

—Movie Line Online
Will definitely keep you up at night

—We Are Movie Geeks
Sleep is rather bracingly sui generis. Technical merits are solid and the supplementary package outstanding. Highly recommended.

—Blu-ray.com
Sleep is engrossing. I only wish I'd seen it at an '80s art house since maintains a dream-like attitude from start to finish.

—Inside Pulse
this is a confident blast to the brain filled with murder, strobing lights and abrasive metal when it isn't about long and languid dreams of death.

—Bands About Movies
a really cool box set [and] a really good production

—Bob Bobson, Bob's Movie Review
Arrow Video is the king of deluxe Blu-ray releases of foreign films. Sleep has been loaded with on-disc bonus features [and] it does look stunning on Blu-ray

—Jason Lockard, Classic Cinema Magazine
a killer limited edition with awesome packaging that only Arrow could do

—Deadpit Radio
Tons of extras. Very much about the reality of dreams and nightmares. Nice limited edtion

—Wade Major, DigiGods
This German horror feature is a movie to which you must pay attention because it freely mixes dreams and reality — and sometimes it is hard to discern which is which. Like a nightmarish fairy tale or a "Shining"-like haunted hotel chiller.

—Bob Bloom, Film Yap
SLEEP might be the closest thing to vicariously experiencing someone else's dreams …this German horror film is extremely well made, a confident and audacious debut by director Michael Venus.

—Free Kittens Movie Guide
Grade-A fuckin' excellent!

—Horror Fuel
Shot very well… like the Shining in a way. There's an otherwordly element to this

—Mr Tony Of The Dead
Sleep is a dazzling, hypnotic work of dreamlike horror

—Kyle Anderson, Nerdist
Sleep is stunning. Cinematographer Marius Von Felbert and director Michael Venus have crafted some of the starkest, scariest, downright creepy visuals I've seen in some time

—Phil Wheat, Nerdly
A really well done movie and it's satisfying to me

—Mr Parka, Screaming Toilet
Brings to mind David Lynch… ut very striking, very strange, very edgy

—Mark Nelson, The Cinemaniacs!
Sleep is worth watching and, given its denseness, perhaps worth watching more than once

—Matt Brunson, The Film Frenzy
SLEEP is one of the better efforts on the waking nightmare subgenre, and Arrow's Limited Edition Blu-ray is well appointed with extras

—Paul Gaita, The Los Angeles Beat
I liked the way director Michael Venus kept pulling out the rug… using the haunting nature of dreams to comment about the haunting nature of history

—Cadwell Turnbull, WBAI
A confident blast to the brain filled with murder, strobing lights and abrasive metal when it isn't about long and languid dreams of death

—Bands About Movies
Killer limited edition with awesome packaging that only Arrow can do

—Deadpit Radio
What works quite well for this one is the highly intriguing mystery and psychological torment that's at play within

—Don Anelli, Don's Horror World
Weaving together the emotional violence of horror with the cryptic motifs of German folk and fairy tales, SLEEP is the debut feature from a major new talent in world cinema.

—Harley Lond, Film Crave
Each horrific scene is meticulously staged

—Casey Bartsch, Film Cultist
fitfully compelling with some memorably creepy imagery

—Dillon Gonzales, Geek Vibes Nation
Each horrific scene is meticulously staged

—Casey Bartsch, Film Cultist
This small, beautiful German film is a small masterwork of uncanny cinema that deserves far more attention and more than one view, both of which are made possible thanks to a lush new Blu-ray release from Arrow Video.

—Phil Bailey, Ink 19
I can't say enough about how beautifully this was shot

—Chris Cox, One Of Us
Incredible German Folk Horror Tale Is A Nightmarish Exploration Of Trauma

—Dillon Gonzales, Geek Vibes Nation