Product Details
An MVD Exclusive
SKU: MVD7501D
Format: DVD
UPC: 760137750192
Street Date: 12/11/15
PreBook Date: 11/06/15
Label: Mug-Shot Productions »
Genre: Jazz
Run Time: 60 mins
Number of Discs: 1
Audio: STEREO
Year of Production: 1980
Region Code: 0
Box Lot: 30
Territory: WORLD
Language: English
Cast & Crew
Actors:
Sun Ra and his Arkestra
Director: ROBERT MUGGE
Producer: ROBERT MUGGE
Product Assets
Sun Ra - A Joyful Noise
Robert Mugge's definitive documentary portrait of jazz visionary Sun Ra and his Arkestra.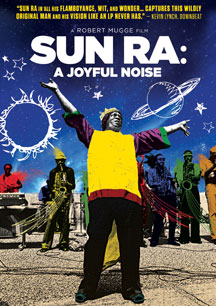 List Price: $19.95
Your Price: $19.95
In Stock: 437

You must login to place orders.



Years ahead of his time, composer, keyboard player, bandleader, poet, and philosopher Sun Ra coupled images of outer space with those of ancient Egypt, acoustic instruments with electronic ones, and modern American musical genres (jazz, soul, gospel, blues, swing) with the sounds of Africa and the Caribbean. He also combined his music with dance, poetry, colorful costumes and backdrops, and pure theatricality, influencing other innovative musical ensembles as diverse as the Art Ensemble of Chicago, George Clinton's Parliament Funkadelic, and Frank Zappa's Mothers of Invention, and he was among the first musicians to use electronic keyboards and portable synthesizers in public performance. For his one-hour documentary, SUN RA: A JOYFUL NOISE, Robert Mugge spent two years shooting Sun Ra and members of his so-called jazz Arkestra in a wide variety of situations. Ensemble performances were filmed at Baltimore's Famous Ballroom, at Danny's Hollywood Palace in Philadelphia, and on the roof of Philadelphia's International House on the edge of the campus of the University of Pennsylvania. Sun Ra's poetry and mythological pronouncements were filmed in the Egyptian Room of the University of Pennsylvania's anthropology museum, in a sculpture garden in Philadelphia's Fairmount Park, in front of the White House in Washington, D.C., and inside and outside of the house he shared with key band members in the Germantown section of Philadelphia. Interviews with band members were filmed inside and outside of the house, as well as inside their nearby Pharaoh's Den food store, and a band rehearsal and a solo keyboard performance were filmed in the house as well. Transferred to HD from the original 16mm film and lovingly restored for the best possible viewing experience. Songs performed in the film include such Sun Ra classics as "Astro Black," "Mister Mystery," "We Travel the Spaceways," "Along Came Ra/The Living Myth," "Spaceship Earth (Destination Unknown), "Requiem for Trevor Johnson," and many more. This release also includes extended audio versions of these and other songs.
Media
Bonus Materials
Extended audio of live performances.
Extended audio of live performances.
Extended audio of live performances.
Sales Points
Transferred to HD from the original 16mm film and lovingly restored
Transferred to HD from the original 16mm film and lovingly restored
Transferred to HD from the original 16mm film and lovingly restored
Press Quotes
Every good documentary begins with a good subject. And Robert Mugge's SUN RA: A JOYFUL NOISE has a subject that is almost too good to be true. Mugge presents his subject with bemused respect...moments of irony. An essential experience for anyone who enjoys Sun Ra's music, [it] also offers intriguing evidence that the black avant-garde is not a parochial enterprise but a movement that burrows deeply into everyone's collective past.

—Larry Kart, Chicago Tribune
The film captures the enigmatic bandleader's exceptional personal magnetism. Wonderful performance sequences...plenty of fine music, including riveting saxophone solos. Fascinating...worth seeing.

—Robert Palmer, New York Times
Even in close-up, Mr. Ra remains an enigma - inspiring to his band members and never less than entertaining to the outside world.

—Jon Pareles, New York Times
SUN RA: A JOYFUL NOISE marks a decisive use of the art of film illuminate the often enigmatic art of jazz, and I urge those of you committed to film to see it whether you are interested in jazz or not.

—Francis Davis, Terry Gross's Fresh Air Program (NPR)
An exceptional profile...as fine a documentary as anyone has made about jazz and the obsessive lives of radical artists.

—Ken Tucker, Philadelphia Inquirer
Sun Ra in all his flamboyance, wit, and wonder...a fascinating look at the whirling dervish keyboardist, bandleader, and mile-high philosopher. This film captures this wildly original man and his vision like an LP never has.

—Kevin Lynch, Down Beat
The avant-bop of SUN RA: A JOYFUL NOISE is simply unmissable.

—John Gill, Time Out London
The audience gave a standing ovation to SUN RA: A JOYFUL NOISE, Bob Mugge's portrait of Sun Ra. The music is enthralling...strange and wonderful. The film is flashy, but concise; the interviews like a trip to another planet; and the sounds...thrilling.

—Chris Auty, City Limits (London)
Every good documentary begins with a good subject. And Robert Mugge's SUN RA: A JOYFUL NOISE has a subject that is almost too good to be true. Mugge presents his subject with bemused respect...moments of irony. An essential experience for anyone who enjoys Sun Ra's music, [it] also offers intriguing evidence that the black avant-garde is not a parochial enterprise but a movement that burrows deeply into everyone's collective past.

—Larry Kart, Chicago Tribune
The film captures the enigmatic bandleader's exceptional personal magnetism. Wonderful performance sequences...plenty of fine music, including riveting saxophone solos. Fascinating...worth seeing.

—Robert Palmer, New York Times
Even in close-up, Mr. Ra remains an enigma - inspiring to his band members and never less than entertaining to the outside world.

—Jon Pareles, New York Times
SUN RA: A JOYFUL NOISE marks a decisive use of the art of film illuminate the often enigmatic art of jazz, and I urge those of you committed to film to see it whether you are interested in jazz or not.

—Francis Davis, Terry Gross's Fresh Air Program (NPR)
An exceptional profile...as fine a documentary as anyone has made about jazz and the obsessive lives of radical artists.

—Ken Tucker, Philadelphia Inquirer
Sun Ra in all his flamboyance, wit, and wonder...a fascinating look at the whirling dervish keyboardist, bandleader, and mile-high philosopher. This film captures this wildly original man and his vision like an LP never has.

—Kevin Lynch, Down Beat
The avant-bop of SUN RA: A JOYFUL NOISE is simply unmissable.

—John Gill, Time Out London
The audience gave a standing ovation to SUN RA: A JOYFUL NOISE, Bob Mugge's portrait of Sun Ra. The music is enthralling...strange and wonderful. The film is flashy, but concise; the interviews like a trip to another planet; and the sounds...thrilling.

—Chris Auty, City Limits (London)
Every good documentary begins with a good subject. And Robert Mugge's SUN RA: A JOYFUL NOISE has a subject that is almost too good to be true. Mugge presents his subject with bemused respect...moments of irony. An essential experience for anyone who enjoys Sun Ra's music, [it] also offers intriguing evidence that the black avant-garde is not a parochial enterprise but a movement that burrows deeply into everyone's collective past.

—Larry Kart, Chicago Tribune
The film captures the enigmatic bandleader's exceptional personal magnetism. Wonderful performance sequences...plenty of fine music, including riveting saxophone solos. Fascinating...worth seeing.

—Robert Palmer, New York Times
Even in close-up, Mr. Ra remains an enigma - inspiring to his band members and never less than entertaining to the outside world.

—Jon Pareles, New York Times
SUN RA: A JOYFUL NOISE marks a decisive use of the art of film illuminate the often enigmatic art of jazz, and I urge those of you committed to film to see it whether you are interested in jazz or not.

—Francis Davis, Terry Gross's Fresh Air Program (NPR)
An exceptional profile...as fine a documentary as anyone has made about jazz and the obsessive lives of radical artists.

—Ken Tucker, Philadelphia Inquirer
Sun Ra in all his flamboyance, wit, and wonder...a fascinating look at the whirling dervish keyboardist, bandleader, and mile-high philosopher. This film captures this wildly original man and his vision like an LP never has.

—Kevin Lynch, Down Beat
The avant-bop of SUN RA: A JOYFUL NOISE is simply unmissable.

—John Gill, Time Out London
The audience gave a standing ovation to SUN RA: A JOYFUL NOISE, Bob Mugge's portrait of Sun Ra. The music is enthralling...strange and wonderful. The film is flashy, but concise; the interviews like a trip to another planet; and the sounds...thrilling.

—Chris Auty, City Limits (London)