Product Details
An MVD Exclusive
Format: CD
SKU: JSP77213
UPC: 788065721329
Street Date: 01/18/19
PreBook Date: 12/14/18
Label: JSP RECORDS »
Genre: Country
Run Time: 120 mins
Number of Discs: 4
Year of Production: 2018
Box Lot: 6
Territory: NORTH AMERICA
Language: English
Product Assets
Texas Hillbillies
Compilation of Texas Hillbilly music from the 20s and 30s. Rare, Raucous, Racy and Real!!!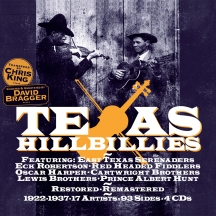 List Price: $28.99
Your Price: $28.99
In Stock: YES

Not purchasing for a business? See our consumer site.
This amazing set is compiled by the Grammy Award winning producer Chris King from his own amazing collection of scarce 78s and discs. There is not another set like this. Superb, entertaining and important music. The music us superbly remastered as well as expertly packaged and presented so the set is attractive for both the hard core collector and the more casual buyer of American Roots.
Track Listing
Disc 1:
AC (Eck) Robertson - Sallie Gooden
Lewis Brothers - Sally Johnson
Lewis Brothers - Bull at the Wagon
Prince Albert Hunt's Texas Ramblers - Blues in a Bottle
Prince Albert Hunt's Texas Ramblers - Traveling Man
Red Headed Fiddler - Paddy on the Hand Car
Red Headed Fiddler - The Steeley Rag
Cartwright Brothers - San Antonio
Cartwright Brothers - Zacatecas
East Texas Serenaders - Dream Shadows
East Texas Serenaders - Babe
Fox Chasers - Eighth of January
Fox Chasers - Forked Deer
Oscar & Doc Harper - Beaumont Rag
Oscar & Doc Harper - Billy in the Low Ground
East Texas Serenaders - Gulf Waltz
East Texas Serenaders - Mineola Rag
Red Headed Fiddlers - Texas Quickstep
Red Headed Fiddlers - Never Alone Waltz
AC (Eck) Robertson - Ragtime Annie
Henry C Gilliland & AC (Eck) Robertson - Turkey in the Straw
East Texas Serenaders - Acorn Stomp
East Texas Serenaders - Shannon Waltz
Disc 2:


WA Hinton - Leather Britches
Dick Devall - Tom Sherman's Barroom
Smith's Garage Fiddle Band - Cuban Two Step Rag
Red Headed Fiddlers - Cheat 'Em
Red Headed Fiddlers - Far in the Mountain
East Texas Serenaders - Sweetest Flower
East Texas Serenaders - Combination Rag
MS Dillehay - Mexican Beans
MS Dillehay - Mother-in-Law
Cartwright Brothers - Utah Carrol
Cartwright Brothers - Get Along Little Dogies
Hugh Roden & His Texas Night Hawks - Possum Rag
Hugh Roden & His Texas Night Hawks - Crazy Rag
East Texas Serenaders - Del Rio Waltz
East Texas Serenaders - East Texas Drag
Oscar Harper's Texas String Band - Sally Johnson
Oscar Harper's Texas String Band - She Gave Up
Smith's Garage Fiddle Band - Beaumont Rag
Smith's Garage Fiddle Band - Twinkle Twinkle Little Star
Eck Robertson & Family - The Island Unknown (Pt 1)
Eck Robertson & Family - The Island Unknown (Pt 2)
Disc 3:


Arthur Miles - Lonely Cowboy (Pt 1)
Arthur Miles - Lonely Cowboy (Pt 2)
Lewis Brothers - Caliope
Lewis Brothers - When Summer Comes Again
Fiddlin' Jim Pate - Prisoner Boy
Fiddlin' Jim Pate - Texas Farewell
Cartwright Brothers - On the Old Chisholm Trail
Cartwright Brothers - When the Work's All Done This Fall
AC (Eck) Robertson - Sally Johnson and Billy in the Low Ground
AC (Eck) Robertson - Done Gone
Prince Albert Hunt's Texas Ramblers - Wake Up Jacob
Prince Albert Hunt's Texas Ramblers - Waltz of Roses
Red Headed Fiddlers - Ragtime Annie
Red Headed Fiddlers - Texas Waltz
East Texas Serenaders - Arizona Stomp
East Texas Serenaders - Shannon Waltz
Eck Robertson & Family - Brilliancy Medley
Eck Robertson & Family - Amarillo Waltz
East Texas Serenaders - Three In One Two-Step
East Texas Serenaders - Meadow Brook Waltz
Oscar & Doc Harper - Dallas Bound
Oscar & Doc Harper - Terrell Texas Blues
Eck Robertson & Family - Brown Kelly Waltz (Pt 1)
Eck Robertson & Family - Brown Kelly Waltz (Pt 2)
Disc 4:


Hugh Roden & Roy Rodgers - Chicken in the Garden
Prince Albert Hunt's Texas Ramblers - Houston Slide
Smith's Garage Fiddle Band - Tom & Jerry
Eck Robertson & Family - There's a Brown Skin Girl Down the Road Somewhere
Oscar & Doc Harper - Twinkle Little Star
Oscar & Doc Harper - Bitter Creek
Solomon & Hughes - Ragtime Annie
Solomon & Hughes - Sally Johnson
Capt MJ Bonner - Yearling's in the Canebrake/The Gal on the Log
Capt MJ Bonner - Dusty Miller/Ma Ferguson
Oscar Harper's Texas String Band - Kelly Waltz
Oscar Harper's Texas String Band - Bouquet Waltz
East Texas Serenaders - Ozark Rag
East Texas Serenaders - Louisa Waltz
Eck Robertson & Dr JB Cranfill - Great Big 'Taters
Eck Robertson & Dr JB Cranfill - Run, Boy, Run
Fox Chasers - Red Wing
Fox Chasers - New Broom
Red Headed Fiddlers - St Jobe's Waltz
Red Headed Fiddlers - Fatal Wedding
Cartwright Brothers - Mammy's Little Black-Eyed Boy
Cartwright Brothers - Pickanniny Lullaby
East Texas Serenaders - Beaumont Rag
East Texas Serenaders - Serenaders' Waltz