Product Details
An MVD Exclusive
SKU: MVD8297D
Format: DVD
UPC: 760137829799
Street Date: 12/13/16
PreBook Date: 11/08/16
Label: Pop Twist »
Genre: Horror
Run Time: 81 mins
Number of Discs: 1
Audio: STEREO
Year of Production: 2015
Region Code: 0
Box Lot: 30
Territory: NORTH AMERICA
Language: English
Cast & Crew
Actors:
Ellen Mullen
Neill Fleming
Matthew Toman
Director: JASON FIGGIS
Producer: Jason Figgis
Producer: Matthew Toman
Director: JASON FIGGIS
Producers: Jason Figgis, Matthew Toman
Product Assets
The Ecstasy Of Isabel Mann
Teenage vampires, daylight, a young girl changing. Expect mayhem.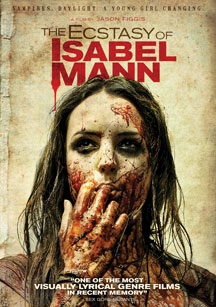 List Price: $14.95
Your Price: $14.95
In Stock: 208

You must login to place orders.



Teenager Isabel Mann is seduced by a violent sect of day-walking vampires. Her classmates start to go missing, attracting two detectives.Things get weird as the disturbed teenager kills at will in the nearby woods. She's aided by head vampire Alejo, and eerily by Isabel's lost mother, an earlier recruit. She's trained in the art of the kill with horrifically bloody results for those she loves.
Media
Bonus Materials
Director's Commentary
Music Video
Deleted Scenes
Trailer
Other Dublin Noir Trailers
Director's Commentary
Music Video
Deleted Scenes
Trailer
Other Dublin Noir Trailers
Director's Commentary
Music Video
Deleted Scenes
Trailer
Other Dublin Noir Trailers
Sales Points
OFFICIAL SELECTION - 17th IRISH FILM INSTITUTE WEEKEND OF HORRORS
2014 BLOODGUTS FILM AWARDS (UK) NOMINATIONS: BEST INDY FEATURE, BEST INDY SCREENPLAY, BEST INDY ACTRESS (ELLEN MULLEN)
2014 BLOODGUTS FILM AWARDS (UK) NOMINATIONS: BEST INDY FEATURE, BEST INDY SCREENPLAY, BEST INDY ACTRESS (ELLEN MULLEN)
Acclaimed horror director Jason Figgis
Featured in the new book 'The New Flesh: 21st Century Horror Films A-Z'
OFFICIAL SELECTION - 17th IRISH FILM INSTITUTE WEEKEND OF HORRORS
Acclaimed horror director Jason Figgis
Featured in the new book 'The New Flesh: 21st Century Horror Films A-Z'
2014 BLOODGUTS FILM AWARDS (UK) NOMINATIONS: BEST INDY FEATURE, BEST INDY SCREENPLAY, BEST INDY ACTRESS (ELLEN MULLEN)
OFFICIAL SELECTION - 17th IRISH FILM INSTITUTE WEEKEND OF HORRORS
Acclaimed horror director Jason Figgis
Featured in the new book 'The New Flesh: 21st Century Horror Films A-Z'
Press Quotes
'The Ecstasy of Isabel Mann' is brutally horrific yet tragic. At its core, is a character piece that sees innocence develop into a macabre monster. Such a memorable piece of work with good old-fashioned storytelling from somebody who knows how to do it.

—Blood Guts
'The Ecstasy Of Isabel Mann' sets a new standard for modern horror. The film - a brilliant mix of psychological thriller and over-the-top bloodbath - taps into viewers' psyches from every angle, without a single wasted frame. The story, the imagery, and t

—The Impaler Speaks
Mullen is fantastic in the lead role, imbuing her character with all the melancholy and confusion required to breathe sympathy into someone who's been groomed to kill and is starting to enjoy it - though never truly understanding why.

—Sex Gore Mutants
The movie strips out vampire mythology and leaves in a murder investigation. The strength of the whole thing is that it has no cackling villains doing rotten things. We just see the aftermath with the families the victims leave behind. Horror movies never

—Revolution-SF (USA)
Mullen is so f***ing good. A real pleasure to watch a vampire film that pushes the boundaries. Realistic, believable and great.

—The Movie Monster (USA)
A horrific and tragic vampire tale with a great story that revolves around lust for survival with a haunting soundtrack from Michael Richard Plowman.

—Horror Unlimited (USA)
A vampire film that attacks the genre with a fresh verve. It subverted expectations at almost every turn and Figgis elicits phenomenal performances from a largely young cast. Incredible.

—Stuart Willis, Sex Gore Mutants
'The Ecstasy of Isabel Mann' is brutally horrific yet tragic. At its core, is a character piece that sees innocence develop into a macabre monster. Such a memorable piece of work with good old-fashioned storytelling from somebody who knows how to do it.

—Blood Guts
'The Ecstasy Of Isabel Mann' sets a new standard for modern horror. The film - a brilliant mix of psychological thriller and over-the-top bloodbath - taps into viewers' psyches from every angle, without a single wasted frame. The story, the imagery, and t

—The Impaler Speaks
Mullen is fantastic in the lead role, imbuing her character with all the melancholy and confusion required to breathe sympathy into someone who's been groomed to kill and is starting to enjoy it - though never truly understanding why.

—Sex Gore Mutants
The movie strips out vampire mythology and leaves in a murder investigation. The strength of the whole thing is that it has no cackling villains doing rotten things. We just see the aftermath with the families the victims leave behind. Horror movies never

—Revolution-SF (USA)
Mullen is so f***ing good. A real pleasure to watch a vampire film that pushes the boundaries. Realistic, believable and great.

—The Movie Monster (USA)
A horrific and tragic vampire tale with a great story that revolves around lust for survival with a haunting soundtrack from Michael Richard Plowman.

—Horror Unlimited (USA)
A vampire film that attacks the genre with a fresh verve. It subverted expectations at almost every turn and Figgis elicits phenomenal performances from a largely young cast. Incredible.

—Stuart Willis, Sex Gore Mutants
'The Ecstasy of Isabel Mann' is brutally horrific yet tragic. At its core, is a character piece that sees innocence develop into a macabre monster. Such a memorable piece of work with good old-fashioned storytelling from somebody who knows how to do it.

—Blood Guts
'The Ecstasy Of Isabel Mann' sets a new standard for modern horror. The film - a brilliant mix of psychological thriller and over-the-top bloodbath - taps into viewers' psyches from every angle, without a single wasted frame. The story, the imagery, and t

—The Impaler Speaks
Mullen is fantastic in the lead role, imbuing her character with all the melancholy and confusion required to breathe sympathy into someone who's been groomed to kill and is starting to enjoy it - though never truly understanding why.

—Sex Gore Mutants
The movie strips out vampire mythology and leaves in a murder investigation. The strength of the whole thing is that it has no cackling villains doing rotten things. We just see the aftermath with the families the victims leave behind. Horror movies never

—Revolution-SF (USA)
Mullen is so f***ing good. A real pleasure to watch a vampire film that pushes the boundaries. Realistic, believable and great.

—The Movie Monster (USA)
A horrific and tragic vampire tale with a great story that revolves around lust for survival with a haunting soundtrack from Michael Richard Plowman.

—Horror Unlimited (USA)
A vampire film that attacks the genre with a fresh verve. It subverted expectations at almost every turn and Figgis elicits phenomenal performances from a largely young cast. Incredible.

—Stuart Willis, Sex Gore Mutants