Product Details
An MVD Exclusive
Version: Clear Splatter Vinyl
SKU: SQR056LP-CLRSPL
Format: LP
UPC: 7340148114430
Street Date: 08/04/23
PreBook Date: 04/07/23
Label: The Sign Records »
Genre: Metal
Run Time: 29:03 mins
Number of Discs: 1
Audio: STEREO
Year of Production: 2022
Region Code: 0
Box Lot:
Territory: NA,JP,AU
Product Assets
The Hip Priests - Roden House Blues (clear Splatter Vinyl Lp)
Punk? Garage Rock? Scandi Rock? Just know this.... They ARE The Hip Priests and YOU are NOT. Play Loud or just don't bother.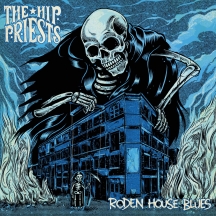 List Price: $27.99
Your Price: $27.99
In Stock: 39

You must login to place orders.



Since their inception in 2006, The Hip Priests have released a mighty thirty 7" singles, four albums, two compilations and three EPs by various independent labels from all over Europe & the USA. Fiercely independent and tirelessly driven, the 'Priests have preached their high energy sermon of misanthropy, hate and contempt across numerous tours of the UK, Europe and USA and made countless rapturously received festival appearances. Gaining a richly deserved reputation as a white-hot live band, the last few years have seen the band's popularity increasing further with them regularly playing alongside kindred spirits such as The Hellacopters, Gluecifer, The Good the Bad and the Zugly, New Bomb Turks, Dwarves and Zeke at both festivals and in clubs. After 16 years some bands would be taking it easy but in spite of a global pandemic, there was no let-up in their determination and activity. Their fifth, and by far their best full-length album - 'Roden House Blues' - was written, rehearsed, and recorded during this period and will be released May 5 th , 2023, via The Sign Records. Rehearsed, recorded and mixed between the numerous U.K lockdowns in Roden House, one of Nottingham's former lace factories where the Priests have their own space, and which spawned the album title. A few dozen demos were scrutinised of which, through a stricter than ever group consensus, 14 were recorded but then honed down, razor sharp, into the tightest collection of 11 low-fat, lean and mean banging tunes that could fit into 30 minutes. 11 glorious tracks of High Energy R'n'R, anthemic, adrenalised, sweaty, singalong, life-affirming Rock and Roll. Huge Choruses, colossal dual guitar rifferama, more hooks than a fishing shop, and one hell of an attitude. This is no Mississippi Blues but perhaps it makes more sense than you think: Howling laments, loss, self-reflection and revelation - alongside some recurring Priests lyrical themes: negativity, nihilism, rage and revolution.
Media
Listen:
Track Listing
Trojan Horseshit
Inaction Rocks
Shakin' Ain't Fakin'
Pissed On Power
Can´t Abide With Me
Chasing Death

Sell My Soul
Just To Get By
Persistence Is Futile
Tiger In My Tank
The Best Revenge
Sales Points
Available on CD (Digipack), Turquoise Splatter vinyl (500 copies), Clear Splatter vinyl (500 copies), and Black vinyl (1000 copies)
"Roden House Blues" is the highly awaited fifth album from The Hip Priests, UK's now legendary masters of anthemic, visceral, Garage/Punk Rock'N Roll
Toured all over Europe and done two US tours, with Zeke, Dwarves, Supersuckers and Electric Frankenstein, and played alongside The Hellacopters, Gluecifer, New Bomb Turks, Nashville Pussy, Refused and many more on festival stages
Released 30 x 7"s (on 17 different labels from Europe & US) over the years, including splits with legendary bands such as Dwarves, Supersuckers, The Good, The Bad & The Zugly, Bloodlights & Demons
Apart from 'Roden House Blues', in 2023 The Hip Priests will see their previous albums ("Tight 'N' Exciting", "Full Tilt Bullshit", "Black Denim Bliz", "Stand For Nothing") remastered, reissued and repackaged, all released on The Sign Records
Members of the band is also ex- and current members of bands such as Bullet, Scene Killers (featuring East Bay legend Jesse Luscious of Blatz, The Criminals, The Frisk on vocals), and Motherfuckin Motherfuckers (featuring members from Bitch Queens)
Has their own fan club of loyal followers called The Spasm Gang which includes members from all around the world
For fans of Dwarves, Supersuckers, The Hellacopters, Gluecifer, New Bomb Turks, Nashville Pussy
Press Quotes
Its bombastic, Loud, blurring the lines of old school hard rock some fast and furious punk n roll and a beating heart full of napalm and Garage rock. With a thunderous duel chug this bad boy is on fire!

—RPM Online, https://rpmonline.co.uk/?p=20637
Nottingham anti-socialites The Hip Priests have cooked up one of the angrier party tracks you'll hear this year - a delicious shot of shouty, catchy punk'n'roll, best served with beer, on a bill with similarly dirty groovemeisters like the Hellacopters and Supersuckers. 'Shaking to the sound n' rattling with rage,' they say. 'Keeping your sanity and keeping it real whilst global politicians try to kill (or sell) us all

—Classic Rock Mag / Louder, https://www.loudersound.com/features/the-eight-bes
it's actually ONLY hits on this record. No lie and no exaggeration!

—Away From Life, https://www.awayfromlife.com/the-hip-priests-roden
THE HIP PRIESTS hereby hand over the hottest work of their career so far. Fast, snotty and yet always with an eye on captivating hooks and catchy refrains.

—DEAF FOREVER, https://drive.google.com/file/d/17g3BIut8Ip4uAKqdB
Roden House Blues does nothing but deliver a two-guitar rifferama full of adrenaline, solos as short as flames, speed and dirty but enthralling refrains

—ROCK HARD, https://drive.google.com/file/d/1fKpmqAD0LnMOJpQY9
an immoderate passion for scandi rock and proto punk action

—WANTLIST, https://drive.google.com/file/d/1fS9NBiMxpA2OPEvT_
eleven tracks of glorious in-yer-face, high-energy, anthemic, adrenalised, sweaty, singalong, life-affirming Rock and Roll

—Velvet Thunder, https://www.velvetthunder.co.uk/the-hip-priests-ro
a rifftastic riot

—Vive Le Rock, https://drive.google.com/file/d/1zZk7Edft8Y23-kdr9
They sold their crusty souls to the same shrine of underground rock 'n' roll that begat UK punk preachers like Buzzcocks, Discharge, and The Exploited

—Decibel Magazine, https://www.decibelmagazine.com/2023/05/03/album-p
Their best-recorded, produced and melodic album to date

—Classic Rock Mag, https://drive.google.com/file/d/1LpxkcawQxtnx036p
Buy this album, play it at full volume and let your problems melt away

—Whispering and hollerin, http://www.whisperinandhollerin.com/reviews/review
These guys are in top Punk Rock form...Excellent!

—Metal Temple, http://www.metal-temple.com/site/catalogues/entry/
It doesn't just say Garage on it, it sputters, rattles and puts a smile on your face for a good half hour

—ROCK HARD, https://drive.google.com/file/d/15tF4nCA0tpMxeODq8
This is defiant high energy r'n'f'r, dragged straight from a back alley garage and into the seedy limelight of the seediest back street club you can imagine

—Uber Rock, https://uber-rock.co.uk/the-hip-priests-roden-hous
This is the sound of a band honed from years of playing the grassroots circuit and loving every minute of it. Breakneck, trashy, and full of bile, Roden House Blues is an absolute monster of a record

—Backseat Mafia, https://www.backseatmafia.com/album-review-the-hip
Pure Punk!

—LEGACY, https://drive.google.com/file/d/14qs59pnXcOMDsV1EK
Yet another rocking and quality release from a band that knows how to do it right

—Punk Globe, https://new.punkglobe.com/may-2023-cd-reviews
Roden House Blues is an album full of relatable topics, backed up by some classic sounds that bring an energetic atmosphere. There's a lot to love if you're into music that gets right up in your face but also acts as a stress release from all the shouting

—Distorted Sound Mag, https://distortedsoundmag.com/album-review-roden-h
Its all fucking blow your head off Punk Rock with added flamethrower whiskey

—The Punk Site, https://www.thepunksite.com/reviews/the-hip-priest
The Hip Priests' darkest, most incendiary record and, damn, their best record to date? You can bet your scant faith in society that it is!

—Rock and Roll Army, https://www.rockandrollarmy.com/magazine/2023/04/
The purest, filthiest rock n roll band in the world, and 'Roden House Blues' is one of the albums of the year

—Maximum Volume Music, https://maximumvolumemusic.com/review-the-hip-prie
Action! This band deliver their garage rock with lots of punk energy. The tempo is often high, and there's lots of adrenaline. Yet it's also catchy as hell and wonderful.

—Hard Rock Info, http://www.hardrockinfo.com/reviews/2023/may.html#
From the pounding rhythm to the flashing blades vying for your ears through the relentles solos. This one has everything you want from the East Midlands based misfits

—RPM online, https://rpmonline.co.uk/?p=21796
The Hip Priests are knocking on your door, let them in little pig or they'll blow your house down

—Original Rock, https://originalrock.net/2023/03/28/love-rockets-l
It's mean, it's dirty, it's angry and is quickly becoming one of my favourite albums of the year, demonstrating exactly how hardcore rock'n'roll should sound like

—Louder than war, https://louderthanwar.com/the-hip-priests-roden-ho
Wild, dirty, vulgar, cheeky, loud... Exactly what rock and punk need!

—Metal head, https://www.metalhead.it/album/the-hip-priests-rod
Roden House Blues offers rock in its purest form, life-affirming and action-packed

—Beatblogger, https://www.beatblogger.de/2023/05/the-hip-priests
In the base it is often quite simple, but how many well-timed breaks and hooks can you place in a three and a half minute song with an instantly catchy high energy riff, a nice solo and an earwig chorus?

—Arrow Lords of Metal, https://arrowlordsofmetal.nl/the-hip-priests-roden
No time to get bored with Roden House Blues, The Hip Priests hit the mark again with a good album from A to Z, on which any fan of rock action should put their ears

—Core and Co, https://www.coreandco.fr/chroniques/the-hip-priest
A strong addition to the genre

—Sweden Rock Magazine, https://drive.google.com/file/d/1y66Ib65bvkB7bM6Y6
Yet another rocking and quality release from a band that knows how to do it right

—Punk Globe Magazine, https://new.punkglobe.com/may-2023-cd-reviews/?fbc
Half an hour of British old-school pub punk

—SPARK, https://drive.google.com/file/d/1L-_ZrxtQd0JTxUEba
Yet another rocking and quality release from a band that knows how to do it right

—Punk Globe Magazine, https://new.punkglobe.com/may-2023-cd-reviews/?fbc
I have no idea what good albums 2023 still has to offer, but with 'Roden House Blues' THE HIP PRIESTS have set the bar so high that pole position can hardly be taken away from them

—OX Fanzine, https://drive.google.com/file/d/1hgsX9xaGhZUjMbTez
The energy, the attitude and the dirty garage sound hits like a punch to the face

—Rocknytt, https://www.rocknytt.net/cd/148226-the-hip-priests
A furious blast of fun!

—Hartlepool Life, https://drive.google.com/file/d/1Zdi9h1tqiFg7HFB-F
The Hip Priests have knocked the attitude right out of the park

—ALL ABOUT THE ROCK, https://allabouttherock.co.uk/the-hip-priests-rod
An adrenaline-pumping, sweaty affair

—HEAVY HARDES, http://www.heavyhardes.de/review-10477.html
It's more explosive than The Clash and the Sex Pistols, it's more assertive and rougher than The Exploited, these bombs are fueled by Black Flag and Minor Threat, spiced with ugly English aesthetics and Seattle without a care

—Rockcor magazine
it's a banger !!!

—RPM Online, https://rpmonline.co.uk/?p=21741
Damned good fun garage punk

—METAL DIGEST, https://metal-digest.com/2023/05/24/the-hip-priest