Product Details
An MVD Exclusive
SKU: AV425
Format: Blu-ray
UPC: 760137898085
Street Date: 03/22/22
PreBook Date: 02/15/22
Label: Arrow Video »
Genre: Film Noir
Run Time: 83 mins
Number of Discs: 1
Audio: STEREO
Year of Production: 1986
Region Code: 0
Box Lot:
Territory: US
Language: Japanese
Cast & Crew
Actors:
Morio Agata
Kenji Endo
Fujiko Fukamizu
Yoshio Yoshida
Director: Kaizo Hayashi
Product Assets
To Sleep So As To Dream
Kaizo Hayashi's acclaimed directorial debut.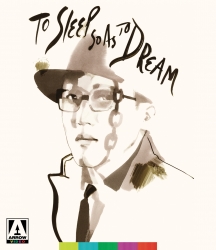 List Price: $39.95
Your Price: $39.95
In Stock: 1324

You must login to place orders.



Two private detectives hunt for an actress trapped within the reel of a silent ninja film in the dreamlike debut of Kaizo Hayashi (Circus Boys, Zipang), a magical double-handed cinephilic homage to the movie worlds of the 1910s and 1950s. When private eye Uotsuka (Shiro Sano, Violent Cop, Shin Godzilla) and his sidekick Kobayashi are approached by an aged former actress, Madame Cherryblossom, to go in search of her kidnapped daughter Bellflower, their investigations lead them to the studios of the mysterious M. Pathe company. Here Uotsuka has a strange vision in which he comes face to face with the beautiful star of a 1915 chanbara film that appears to have no ending. From then on, things begin to get a little strange... Among the most impressive and critically regarded Japanese films of the 1980s, To Sleep so as To Dream finally makes its home-video debut outside of Japan in a brand new restoration supervised by the director himself. Drifting between illusion and allusion, it is chockfull of references to Japan's rich cinematic heritage and features cameos from a host of veteran talent and baroque sets created by Takeo Kimura, the Nikkatsu art designer fondly remembered for his flamboyant work with Seijun Suzuki in the 1960s.
Media
Bonus Materials
High Definition Blu-ray (1080p) presentation
Original uncompressed mono audio
Optional English subtitles
Brand new audio commentary by Japanese film experts Tom Mes and Jasper Sharp
Audio commentary with director Kaizo Hayashi and lead actor Shiro Sano recorded in 2000
How Many Eggs? Actor Shiro Sano Talks, a brand new interview with the film's lead actor
Talking Silents: Benshi Midori Sawato Talks, a brand new interview on early Japanese film culture and the art of the benshi silent film commentator
Midori Sawato Performs 'The Eternal Mystery', an exclusive benshi performance to the film within the film
The Restoration of To Sleep So as to Dream featurette
Fragments from Japan's Lost Silent Heyday, a selection of scenes from silent jidai-geki films from the Kyoto Toy Museum archives
Original Theatrical trailer and English-language restored re-release trailers
Image gallery
Reversible sleeve featuring original and newly commissioned artwork by David Downton
FIRST PRESSING ONLY: Illustrated Collector's booklet featuring new writing on the film by Aaron Gerow
Sales Points
Kaizo Hayashi's acclaimed directorial debut premieres on Blu-ray for the first time!
Kaizo Hayashi is best known for his neo-noir Maiku Hama trilogy, The Most Terrible Time in My Life (1994), Stairway to the Distant Past (1995) and The Trap (1996).
In addition to film, Hayashi served as creative director on the 2000 Konami video game 7 Blades for the PlayStation 2.
Press Quotes
'To Sleep so as to Dream' is an excellent film, which works equally well as a tribute to silent cinema and the beginning of the Japanese movie industry, a mash-up of genres, and as a compact, separate entity

—Panos Kotzathanasis, Asian Movie Pulse
For those movie buffs who dream of a magical world where reality and illusion merge. Kaizo Hayashi has a good feel as well as good feelings for the old favorites

—Walter Goodman, New York Times
Be sure to seek it out

—Bands About Movies
It's a kind of thrilling premise, smartly handled… more or less recreating a silent film experience gives To Sleep So as to Dream a definite "meta" quality that is quite unique.

—Jeffrey Kauffman, Blu-ray.com
There is a lot of material here to enjoy. Arrow Video has done it again giving Japanese cinema fans another release for their collections.

—Jason Lockard, Classic Cinema Magazine
To Sleep so as to Dream was instrumental in salvaging many silent era films that were discarded. The restoration positively glows.

—Peter Nellhaus, Coffee Coffee And More Coffee
Hayashi's work creates a complete magical world combining both the past and the present and is now out here via Arrow Films/MVD Visual as a stunning Blu-ray Special Edition.

—Anne Carlini, Exclusive Magazine
A tribute to Japanese cinema

—Bob Bloom, Film Yap
The [Arrow] Blu-ray is the first legit release of To Sleep So As To Dream since the Fall of 1986 when it first played theatrically. The good news is that you can enjoy To Sleep So As To Dream at home to keep the reverie from breaking.

—Joe Corey, Inside Pulse
Blending the quirky style of David Lynch (who took on noir himself in Blue Velvet) with an affectionate nod to Japanese cinema history, Hayashi delivers an esoteric art film that defies categorization, but lovers of obscure Japanese cinema will find this one satisfyingly unique.

—Movie Line Online
A really interesting and bizarre film with a Lynch-like aesthetic

—Nesruler 22
Dreamlike and impressive.

—Reel Bob
Though "dream-like" is the term most often applied to the frequent reality shifts in writer-director Kaizo Hayashi's film, it's also quite playful

—Paul Gaita, The Los Angeles Beat
Among the most impressive and critically regarded Japanese films of the 1980s, To Sleep so as To Dream finally makes its home-video debut outside of Japan in a brand new restoration supervised by the director himself.

—Tom Stockman, We Are Movie Geeks
Historically difficult to track down outside its native Japan, Kaizo Hayashi's strange TO SLEEP AS TO DREAM debuts on Blu-Ray this month from Arrow, enabling North American audiences the opportunity to see the film in a pristine HD transfer

—Andre Dursin, Andy Film
A pleasure... If you love film, and particularly the history of film, there's a lot to be gleaned from this picture.

—Jack Cormack, Cinema Sentries
This is another fantastic disc from Arrow Video. To Sleep So as to Dream is a wonderful and nostalgic homage to the early days of Japanese cinema. The discs bonuses are really exceptional

—Glenn Kay, Cinema Stance
A Love Letter to a Bygone Era

—Free Kittens Movie Guide
To Sleep So as to Dream is a best-case scenario for when someone who loves film is able to make precisely what they want without any constraints, armed with their good taste and exceptional vision

—Evan Dossey, Midwest Film Journal
To Sleep So As To Dream is a charming, at times magically enchanting blend of gumshoe detective mystery, tribute to the silent era, and fantasy.

—Musique Machine
To Sleep So As To Dream is a masterpiece of time and human consciousness

—David Luhrssen, Shepherd express
A fanciful homage to the cinema of Japan's past, blending reality and illusion

—The Film Frenzy
https://themovieelite.com/to-sleep-so-as-to-dream-1986-arrow-video-blu-ray-review/

—The Movie Elite