Product Details
An MVD Exclusive
Format: Blu-ray
SKU: SEV7670BR
UPC: 760137767084
Street Date: 01/25/22
PreBook Date: 12/21/21
Label: Severin Films »
Genre: Documentary
Run Time: 192 mins
Number of Discs: 1
Audio: STEREO
Year of Production: 2021
Region Code: 0
Box Lot: 30
Territory: NORTH AMERICA
Language: English
Cast & Crew
Actor: Kevin Kölsch
Actor: Dennis Widmyer
Actor: Piers Haggard
Actor: Abraham Castillo Flores
Actor: Adam Scovell
Actor: Alexandra Heller-Nicholas
Actor: Alice Lowe
Actor: Amanda Reyes
Actor: Gail-Nina Anderson
Actor: Mariano Baino
Actor: Geraldine Beskin
Actor: Richard Blackburn
Actor: Lawrence Gordon Clark
Actor: Darren Charles
Actor: Ian Cooper
Actor: Laura Loguércio Cánepa
Actor: John Cussans
Actor: Mattie Do
Actor: Samm Deighan
Actor: Sam Dunn
Actor: Jeremy Dyson
Actor: Robert Eggers
Actor: Kat Ellinger
Actor: Katrin Gebbe
Actor: William Fowler
Actor: Bruce G. Hallenbeck
Actor: Lindsay Hallam
Actor: Mitch Horowitz
Actor: Sean Hogan
Actor: Howard David Ingham
Actor: Kier-La Janisse
Actor: Briony Kidd
Actor: Chad Crawford Kinkle
Actor: Mikel Koven
Actor: Bernice M. Murphy
Actor: Ian Ogilvy
Actor: Dejan Ognjanovic
Actor: Andy Paciorek
Actor: Mark Pilkington
Actor: Vic Pratt
Actor: Dennison Ramalho
Actor: Carlos Primati
Actor: John Leman Riley
Actor: Jonathan Rigby
Actor: Jasper Sharp
Actor: Kali Simmons
Actor: Teresa Sutherland
Actor: Emma Tammi
Actor: Pete Tombs
Actor: Sam L. Waymon
Actor: Jesse Wente
Actor: Maisha Wester
Actor: Robert Wynne-Simmons
Director: Kier-La Janisse
Producer: David Gregory
Producer: Winnie Cheung
Producer: Carl Daft
Director: Kier-La Janisse
Producers: Winnie Cheung, David Gregory, Carl Daft
Product Assets
Woodlands Dark And Days Bewitched: A History Of Folk Horror
Explores the folk horror phenomenon and its culturally specific manifestations in international horror, from its first wave in the 1970s to today.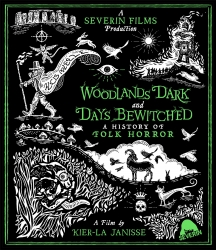 List Price: $29.95
Your Price: $29.95
In Stock: 1577

You must login to place orders.



NOW INCLUDING FEATURETTES, OUTTAKES & MORE
It's been hailed as "stunning" (Diabolique Magazine), "brilliant" (AV Club) and "mind-blowingly epic" (Film Threat), and stands as perhaps the definitive genre documentary of our time. From writer/director/co-producer Kier-La Janisse comes "a seductive mega-text" (Indiewire) through the history of folk horror, featuring clips from over 200 films and interviews with more than 50 filmmakers, authors and scholars that explore the rural roots, occult creeds and cultural lore that continue to shape international cinema. Severin Films presents this "astounding achievement" (Screen Anarchy) - also featuring an original score by Jim Williams (A FIELD IN ENGLAND), animation by Ashley Thorpe (BORLEY RECTORY) and collage sequences by Guy Maddin (MY WINNIPEG) - that Rue Morgue calls "an unprecedented journey into where folk horror has been, where it's going and ultimately what it says about humanity."
Media
Bonus Materials
Video Introduction By Writer/Director/Producer Kier-La Janisse
Animating Folk Horror — A Conversation With Ashley Thorpe
Outtake: What Is Folk Horror?
Outtake: Harvest Hymns — The Sounds And Signals Of Folk Horror
Outtake: Terra Assombrada — Expressions Of Folk Horror In Brazil
Folk Poetry
Sales Points
For fans of THE WITCH
SXSW Film Festival Midnighters Audience Award Winner
Winner of Best Documentary at the Chattanooga Film Festival
Winner of the Gold Audience Award for Best Documentary at Fantasia International Film Festival
For fans of MIDSOMMAR
For fans of British horror cinema
For fans of international horror cinema
For fans of WITCHFINDER GENERAL
For fans of BLOOD ON SATAN'S CLAW
For fans of THE WICKER MAN
For students of the horror genre
Press Quotes
It's exciting to experience, as if you're the wordless witness to one of the greatest movie lobby conversations of all time. For those aching for the return to the frenzied energy, passionate arguments, and exuberant love of cinema that in-person film festivals casually offer, WOODLANDS DARK & DAYS BEWITCHED is a sensational substitute!

—Kristy Puchko, RogerEbert.com
An epic and sprawling investigation, dissection, and contextualization of the cultural impact of folk horror in cinema, first-time feature director Kier-La Janisse's Woodlands Dark & Days Bewitched: A History of Folk Horror is an outstanding achievement.

—Josh Hurtado, Screen Anarchy
Janisse's feature debut is a remarkable effort that's on par with the thoughtful analysis she's put into horror through other mediums. It's a wide-ranging probe into a subgenre that offers insight for even the most studied genre academic.

—Meagan Navarro, Bloody Disgusting
Unearths the history of cinematic folk horror in such loving, erudite, and seductive detail that you almost can't wait for it to be over so you can start watching some of the 100+ films that are excerpted along the way.

—David Ehrlich, Indiewire
I am going to keep it simple: watch Woodlands Dark and Days Bewitched. It's the best thing I have seen in the last few years

—Pramit Chatterjee, Mashable
Filled with thoughtful commentary, lush visuals and a myriad of perspectives, Woodlands Dark and Days Bewitched: A History of Folk Horror is a must-watch that chronicles humankind's most intriguing cinematic stories.

—Marisa Mirabal, Slash Film
Woodlands Dark and Days Bewitched is such a deep dive into the history of folk horror, it's basically an entire college survey course on the subject.

—Vivian Kane, The Mary Sue
Viewers will emerge keen to excavate more of cinema's past than they ever knew existed, and to watch - or at least rewatch - these films with fresh eyes.

—Anton Bitel, Projected Figures